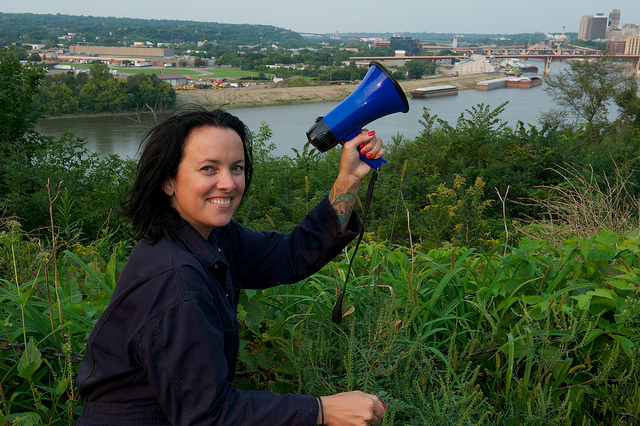 We're incredibly grateful and delighted to report that our community of river advocates more than doubled in 2017!
River Guardians helped to save River Heights Park in Inver Grove Heights, rein in water quality rollbacks at the Capitol, worked for improved public access to the riverfront in North and Northeast Minneapolis and much more. Check out the 2017 best-of photos! >>
December 15
Ever wondered why you can take a train from the Mall of America to Minneapolis and Minneapolis to St. Paul, but not from St. Paul to the mall? The missing piece of this transit triangle just met an important milestone in it's planning process. Here's what we love — and what we don't — about the plans so far.
November 13
Over 60 Northsiders joined us to learn about and discuss ways to reconnect North Minneapolis and the Mighty Mississippi in March 2017.
The FMR advocacy crew is switching gears. After spending 2016 researching how to better connect North Minneapolis with the Mississippi River we're shifting to advocating for those community-identified changes. We marked this transition with a final presentation by FMR's CURA research assistant Eric King and a panel discussion with attendees, covering everything from potential gentrification to a possible land-bridge over Interstate 94.
April 10
FMR is shoring up our advocacy program. In addition to offering opportunities to sign petitions, write letters and speak up at meetings, we're coordinating fun and educational happy hours, training sessions and networking events. We're also amping up our communications to better support our growing community of river advocates. Help name our improved advocacy program and sign up to join us!
February 3
A number of Mississippi Messages readers have contacted us since the leaves fell from the trees about a new building on the river located just north of Minneapolis' Lake Street bridge. We investigated and have some answers, as well as several related questions and concerns.
December 12
Minneapolis' former port, the Upper Harbor Terminal site, could be home to a new riverfront concert venue. What would you like to see? Take the survey and join the discussion. (Rendering courtesy of upperharbormpls.com.)
Calling all river and park lovers:  Help shape the future of this 48-acre riverfront site in Minneapolis!
November 7
FMR would like to thank the South St. Paul City Council and celebrate their recent decision to preserve a city-owned 5-acre site as open space. The site is located near the Mississippi River and adjacent to the Mississippi River Trail scheduled to be constructed in 2017. The council rejected a push to change the largely tree-covered site into a paved industrial railroad storage area.
This is a big win that maintains the city's commitment to a more public and green riverfront for future generations!
October 27
As you grab your bike and enjoy the Mississippi River Trail in the coming years, what would you prefer: views of the river through a grove of trees or a long tall fence and a railroad storage yard? The South St. Paul planning commission faced that very question in early September and voted five to one to preserve the trees. But now the question is moving to the South St. Paul City Council.
September 12
Congratulations to the City of Elk River for earning the Blue Star Award for Excellence in Stormwater Management!
July 11
For many Northsiders, this is the path to the Mississippi River: the West Broadway bridge over Interstate-94. Improvements like a barrier separating the sidewalk from cars, a safe biking space, updating the chainlink fence and adding greenery or art would make this a far more welcoming route for pedestrians and bicyclists traveling to the river.
Currently, the majority of North's residents must make their way over Interstate-94 and through a wall of industry to see and enjoy their riverfront. FMR is working to understand these barriers and identify opportunities to reconnect Northside residents to their Mississippi River. As more of this riverfront transforms from industrial use to parks and trails — changes that FMR has long advocated — we must work hard to ensure that current and future riverfront parks are accessible to area residents. 
June 9
Pages