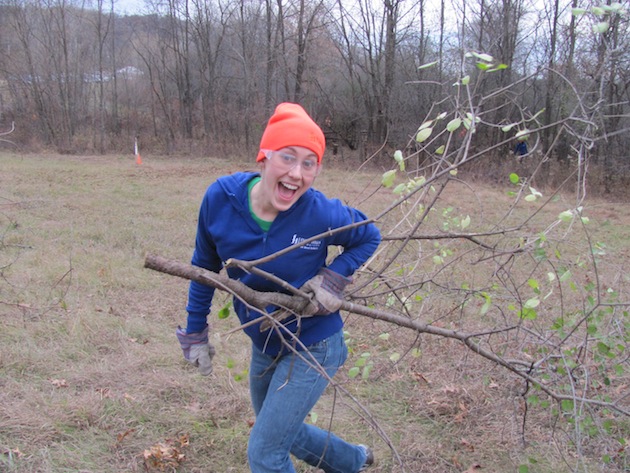 The 3M Cottage Grove facility includes extensive fields and natural areas located near the Mississippi River. FMR has completed natural resource management plans for this high-quality oak woodlands and prairie, and is just beginning to host public and group events at the site. Be the first to join us!
Alongside FMR Ecologist Joe Walton and River Stewardship Coordinator Adam Flett, group members will learn about, explore and then help restore the oak woodlands by hauling cut brush, primarily buckthorn. This will immediately benefit the woodlands, reducing the amount of competition for the native plants that are better for our wildlife and waters, and help prepare the area for future volunteer activities and events.
No experience is required and all supplies will be provided. Photos from a similar event in fall 2012 (at a different location) are available on FMR's flickr page.

This restoration is part of a larger effort to designate and restore a green corridor in southern Washington County, a connected system of natural areas for wildlife and the preservation of our natural communities. It is also part of a larger partnership with 3M and community agencies to protect and restore important natural areas in Cottage Grove. 
Ready to register?
To receive directions to the meeting spot and other essentials, contact FMR's Volunteer Registrar Lindsay Hefferan at lhefferan[at]fmr.org, or by selecting "Lindsay Hefferan" from the drop-down "Category" menu of our contact form. Please include: the name of the event, your name, address and phone number and the number in your party. You will receive a confirmation email from lhefferan[at]fmr.org within two business days.
Please add Lindsay's email to your address book to ensure receipt if you have an active spam filter or an earthlink email.
Please note that capacity is limited and preregistration required. Please also note that any addresses or Google maps that you find on your own will lead you to the wrong location; registrants will be emailed a map created just for participants directing them to this event's meeting spot.