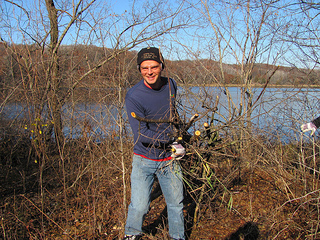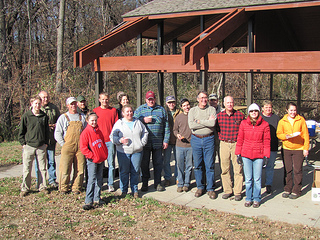 Photos by Gabrielle Ghreichi and Adam Flett, FMR
Centered around one of the most impressive landscape features in southern Washington County, Cottage Grove Ravine Regional Park totals nearly 600 acres. The ravine for which it is named is approximately a half-mile wide with 80- to 100-foot slopes, and bisects the park north to south before ending in a small lake. Known as a "tunnel valley," the ravine was carved by a subglacial drainageway that carried large volumes of water, eroding the valley.
Volunteers will work with FMR Senior Ecologist Karen Schik to continue the restoration of this beautiful park, and expand the restoration area, by hauling cut brush, primarily buckthorn. (There may also be some brush-cutting for volunteers comfortable working with handsaws or loppers.) This will help open the canopy, making way for native plants beneficial to local wildlife and waters to return.
No experience is required and all supplies, including pizza, will be provided. Entry to the park, normally $5, is free for participating volunteers.
Photos from similar events (same park, slightly different location) are available from our fall 2012 and 2013 flickr albums.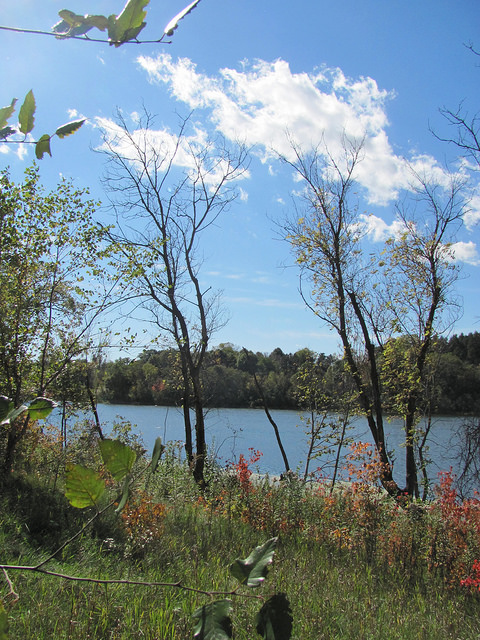 Photo by Amy Kilgore, FMR
This restoration is part of a larger effort to designate and restore a green corridor in southern Washington County, a connected system of natural areas for wildlife and the preservation of our natural communities. It is also part of a larger partnership with 3M and community agencies to protect and restore important natural areas in Cottage Grove.  
Ready to register?
To ensure a high-quality experience, capacity is limited and pre-registration required. To sign up, contact FMR Event Registrar Amy Kilgore via our contact form (please change Category from "general inquiries" to  "volunteering") or at akilgore@fmr.org, 651-222-2193 x31.
Please include: the name of the event, your name, address and phone number and the number in your party. You will receive a confirmation email and additional details, such as directions and what to wear, from akilgore[at]fmr.org within, at most, a week. Please add Amy's email to your address book to increase likelihood of receipt. If you don't see a confirmation from us, please check your spam folder. 
If you are under 18, please have your parent or guardian complete this quick online form so we know you have permission to participate. 
More information
Please note: Any addresses or park maps provided via the links below are for general use only. Event registrants will be emailed a map to the correct event meeting spot.