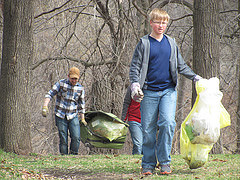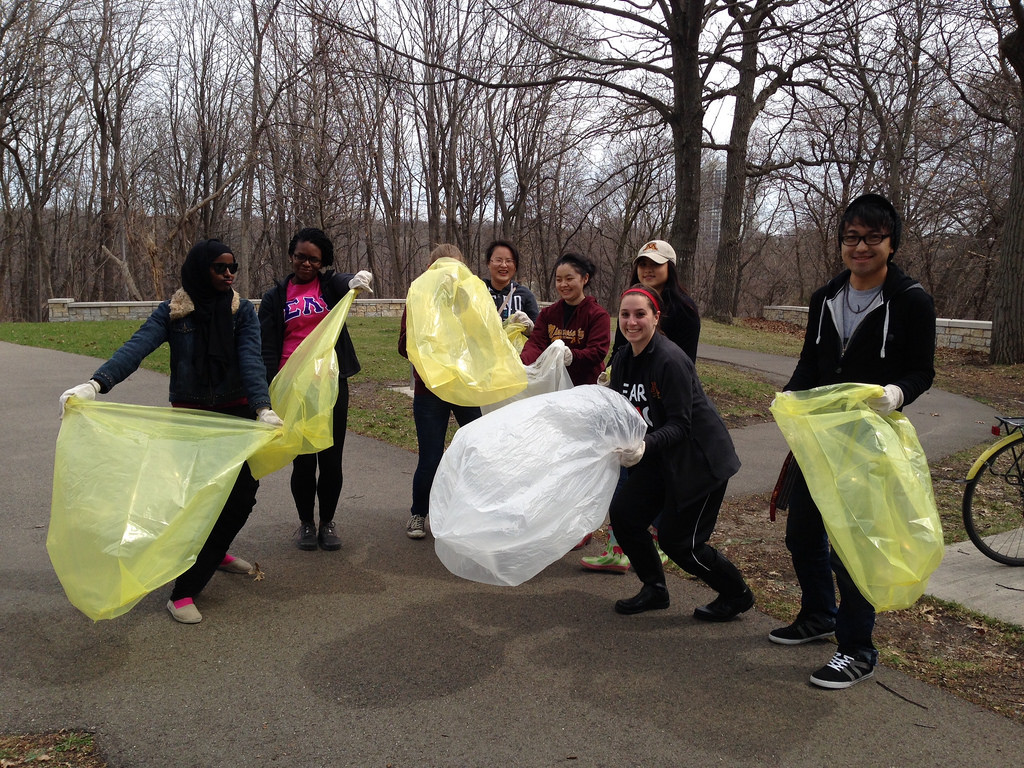 Photo credit: Jeremy Aaron (top), FMR staff (bottom)
Plastic and wildlife are an awful combination. Luckily, this fox kit was saved by the local Wildlife Rehabilitation Center.
Photos courtesy of WRCMN.org
This cleanup is an Earth Day tradition in the Minneapolis River Gorge. People come from throughout the local river corridor neighborhoods and metro area — individuals, families, small church, corporate and student groups — to celebrate Earth Day and contribute to the health and vitality of this national treasure in our midst, the Mississippi River. ...And enjoy the Parkway Pizza lunch and Great Lakes Brewing Company After-Party!
Well meet at two bluff-top sites on the parkway trail. Pick whichever works better for you. Please note that a marathon will be taking place on the parkway road, but the actual river trails and surrounding streets will remain open. Please meet at:
• East 36th Street and West River Parkway, an oak savanna actively being restored by FMR Gorge Stewards volunteers
• East 44th Street and West River Parkway, a maple basswood forest also benefiting from Gorge Stewards restoration volunteers
You'll see a small tent and signage near the bike and walking trails. (Please note that the start-time is indeed 9:30 a.m., NOT 9 a.m.) Youll sign in and receive trash bags and directions. If possible, please bring your own gloves. A limited quantity will be provided, it would help us conserve limited resources (and the gloves we can provide are often ill-fitting, especially for youth).
Both sites also feature ongoing educational presentations, usually involving a National Park Service ranger and other high-quality presenters.
Both also include a Parkway Pizza lunch.
And participants can either meet or work their way to the 36th Street site to receive tokens to participate in the Great Lakes Brewing company After Party hosted at Sea Salt!
Details will be added to this page as soon as they are confirmed. Or, better yet, contact FMR Outreach & volunteer Coordinator sue rich (select "sue" under Category on the FMR contact form) to sign up for the Mississippi River Gorge Stewards emails to receive notices on this and other upcoming River Gorge Stewards events.  
We look forward to seeing you there!
Preregistration is not required for this event unless: 
* You are under 18 and your guardian will not be attending with you. Teens 15 and up are welcome to participate! However, we will need your parent or guardian to complete this online minor permission form ahead of time. (It's a legal thing.) 
* You're with a group of 10 or more, please contact FMR Registrar Amy Kilgore, akilgore[at]fmr.org (or select "Amy Kilgore" under "Category" on our contact form), 651-222-2193 x31, to help ensure adequate supplies and to help make the registration process easier for your group.
Groups of 20 or more should also consider setting up a cleanup site just for their members. It's quick and easy, and helps ensure that cleanup efforts are better distributed throughout the city. To learn more, contact Erika Chua at echua@minneapolisparks.org.
This cleanup is part of the Gorge Stewards, an educational and volunteer program led by Friends of the Mississippi River that provides opportunities for people who care about the Twin Cities River Gorge to actively engage in its care. Learn more!
*Did you know the River Gorge is part of a National Park? In fact, all Gorge Stewards volunteers are considered National Park Service volunteers as well.
* Photos from the chilly River Gorge Earth Day Cleanups are available here on our Flickr site.
----------------------------
Want a cleanup site closer to home?
This event is part of a larger citywide cleanup effort sponsored by the Minneapolis Parks and Recreation Board and the City of Minneapolis. There are over 20 other cleanup sites. A list of 2015 sites is available here. (Please note that the FMR cleanup time is indeed 9:30 a.m.-noon and not 2-4:30 as listed on the MPRB page.)
FMR offers dozens of volunteer and education events annually. To receive a twice-monthly calendar and important river news and updates, sign up for Mississippi Messages.