Pull garlic mustard at the river gorge sand flats [FULL]
Saturday, May 21, 2022 -

9:00am

to

11:00am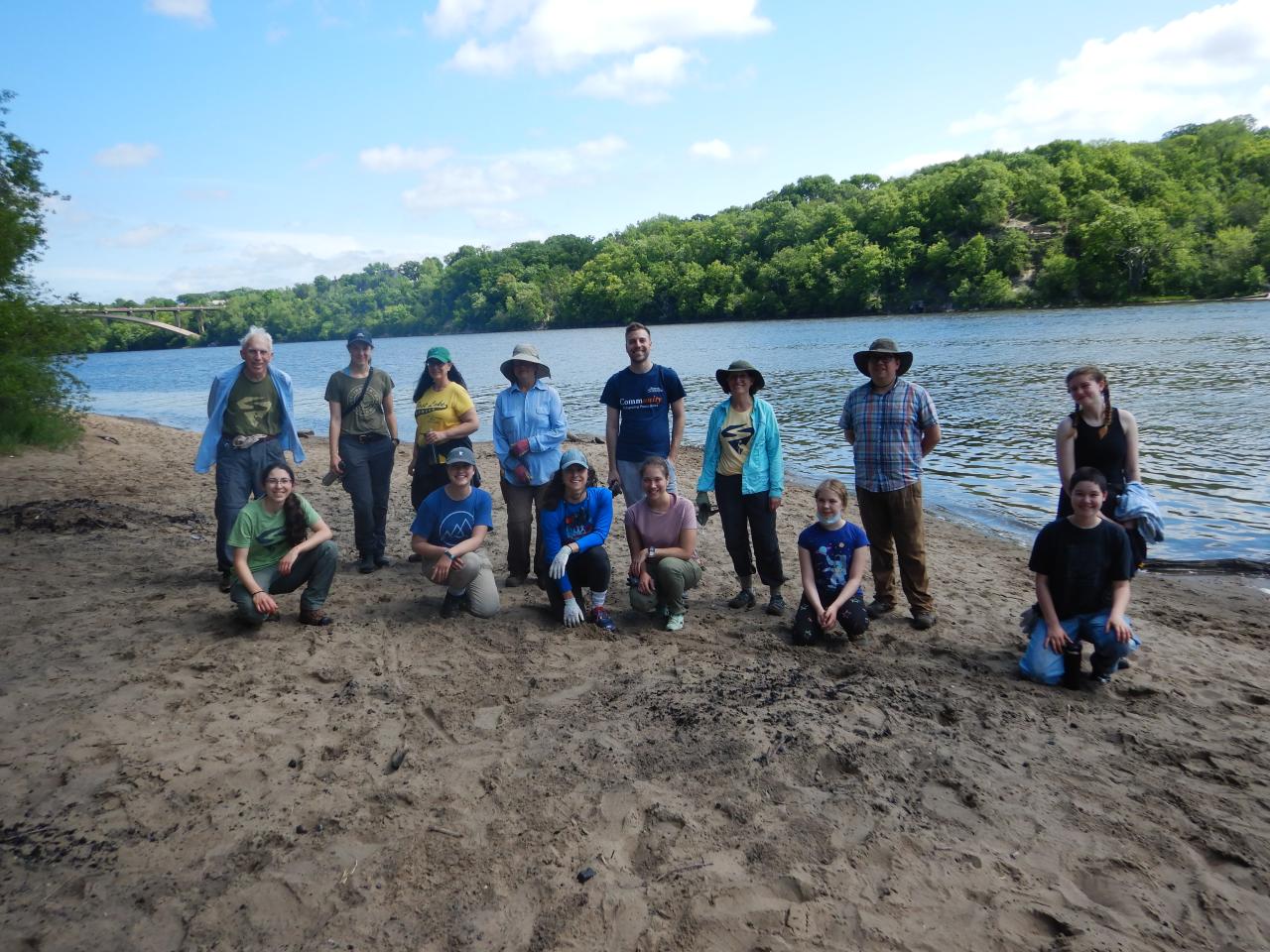 Our work takes place on Dakota homelands. Learn more.
--
Join us for a morning of invasive species removal at the Minneapolis River Gorge sand flats (sometimes called the Longfellow flats), known for their large sandy beaches and wonderful river-edge view. Working alongside FMR staff, volunteers will remove garlic mustard.
Although garlic mustard can spread rapidly and take over sites, it's is not only easy to identify but quick to pull by hand. Volunteers will be pleased to see a dramatic difference in ground cover by the end of this event – improving wildlife habitat and making room for native plant species. In 2021, volunteers at this event removed 40 bags of garlic mustard from the site!
As always, we'll provide any necessary tools and training. All are welcome, however, capacity is limited and registration is required.
This event is supported by the local neighborhood group, the Longfellow Community Council, and Longfellow area residents are encouraged to attend. The event is also part of the Gorge Stewards program, which actively engages people throughout the Twin Cities in the stewardship of the national treasure that is the Mississippi River Gorge.
Accessibility
The worksite for this event is only accessible by a very long and steep staircase that scales the side of the bluff, a taxing climb. Once on the flats, volunteers will be working on level terrain. Hand pulling plants is a lower impact activity that can be done while sitting down. FMR will provide a few kneeling pads.
Ready to register?
While this event is full, you can still sign up for the waitlist. Please contact FMR Volunteer & Outreach Coordinator Sophie Downey at sdowney@fmr.org, 651.222.2193 x27, or by selecting Sophie by name under "Category" via the FMR contact form. Please include the name of the event, your name, address and phone number and the number in your party. We will contact you if a spot opens up.
Can't make it?
To receive notices of future volunteer events, contact FMR Volunteer & Outreach Coordinator Sophie Downey at sdowney@fmr.org. Or, visit our Events Calendar for our most up-to-date listing of upcoming events. To receive a twice-a-month e-newsletter including all FMR activities and news, sign up for Mississippi Messages.
What about COVID-19?
We're watching the CDC and Minnesota Department of Health guidelines closely. If plans change based on their recommendations, FMR Volunteer & Outreach Coordinator Sophie Downey will email registrants with event updates. (Be sure to add sdowney@fmr.org to your contacts so updates don't land in spam.) And we'll update this page if anything changes. (You can read more about our policies here.)
We will offer gloves and hand sanitizer at the event. Volunteers are encouraged to bring their own masks and wear them when in close proximity to others.
Thank you to our partners and funders:
Thanks to our Gorge Stewards Program partners and funders: 3M Foundation, BNSF Foundation, the Environment and Natural Resources Trust Fund, Hennepin County, Longfellow Community Council, Marathon Foundation, Minneapolis Parks and Recreation Board, RBC Wealth Management, the US Forest Service and Xcel Energy.