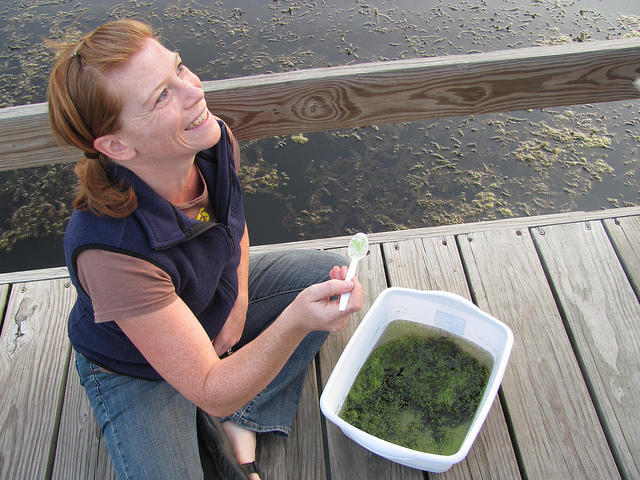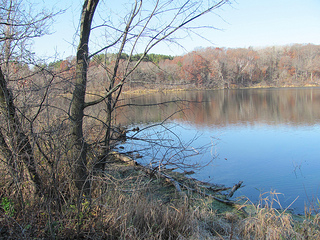 Tour participants will use dip nets to get a closer look at insects living in the wetlands at Cottage Grove Ravine Park. (Photos: FMR, Michelle Kopp)
Join Friends of the Mississippi River ecologist Karen Schik and Washington Conservation District's Angie Hong to explore Ravine Lake and the wetlands of Cottage Grove Ravine Regional Park. You'll learn about the plant life in and around the wetlands — aquatic, amphibious, and terrestrial — and the important role these plants play as they provide habitat and filter pollutants from our waters. We'll also use dip nets to get a closer look at macroinvertebrates living in the marsh, and discuss what these tiny creatures reveal about the impacts of water pollution!
Participants will also learn about the restoration of this beautiful area, including fall volunteer opportunities at the site. Photos from last year's tour are available here.
Centered around one of the most impressive landscape features in southern Washington County, Cottage Grove Ravine Regional Park totals nearly 600 acres. The ravine for which it is named is approximately a half-mile wide with 80- to 100-foot slopes, and bisects the park north to south before ending in Ravine Lake. Known as a "tunnel valley," the ravine was carved by a subglacial drainageway that carried large volumes of water, eroding the valley.
Ready to register?
To ensure a high-quality experience, capacity is limited and preregistration required. Minors are welcome to participate with a parent or guardian.
To sign up, contact FMR Event Registrar, Amy Kilgore via our contact form (please change Category from "general inquiries" to  "volunteering") or at akilgore@fmr.org, 651-222-2193 x31 Please include: the name of the event, your name, address and phone number and the number in your party.
You will receive a confirmation email and additional details, such as directions and what to wear, from akilgore[at]fmr.org within one to two business days. If you have earthlink or an active SPAM filter, please add Amy's email address to your contacts to ensure receipt.