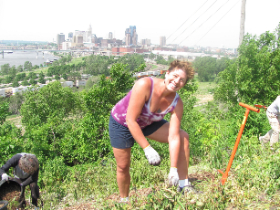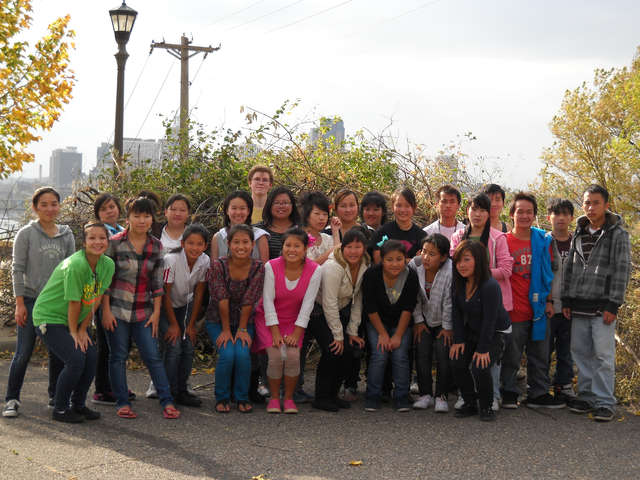 While Carver's Cave overlook in Indian Mounds Park is most known for its vista — one of the most photographed river scenes in the metro area — it is also home to an exciting restoration project. Since 2011, FMR has been working with Saint Paul Parks & Recreation, local volunteers, and students from nearby Harding High Earth Club to remove invasive species and restore the native bluff prairie on the west side of this historic park's overlook. Now, volunteers are needed to start phase two of the project: expanding the restoration to the east side of the overlook!
Alongside FMR and Saint Paul Parks staff, volunteers will haul and stack invasive brush, including European buckthorn — the non-native woody species that degrades our local native plant communities and wildlife habitat — on the overlook slope. By the end of the event participants should be able to see a real difference. Removing the invasive brush will open up sight lines to a spectacular vista of the Mississippi River valley. This will also open the canopy and make room for a native prairie planting planned for 2014. The prairie plants will help anchor the soil on the steep bluff, preventing erosion and filtering stormwater runoff while improving wildlife habitat.
June 8th, volunteers will also spend some time pulling invasive garlic mustard and weeding and tending to the native shrubs planted on the west side of the overlook last year, as well as picking up trash that may have accumulated over the winter.
Tools, gloves and water will be provided. Please wear sturdy shoes and be prepared to work on steep and uneven terrain. While most FMR activities are family friendly, due to the tools and terrain this particular event is not suitable for small children.
Ready to register?
To ensure a high-quality experience and adequate supplies, capacity is limited and preregistration required. To sign up, contact FMR Volunteer & Education Event Registrar Lindsay Hefferan at lhefferan@fmr.org or 651-222-2193 x24. Please include: the name of the event, your name, address and phone number and the number in your party.
You will receive a confirmation email and additional details, such as directions and what to wear, from lhefferan@fmr.org within, at most, a week. Please add Lindsay's email address to your contacts to ensure receipt. Otherwise, the event details and directions may end up in your SPAM folder.
If you can't make this event but would like to be notified of future Indian Mounds Park or other restoration and education events, contact FMR Outreach & Volunteer Coordinator sue rich at srich@fmr.org, or sign up for our twice-a-month e-newsletter, Mississippi Messages, by entering your email in the periwinkle box at right.