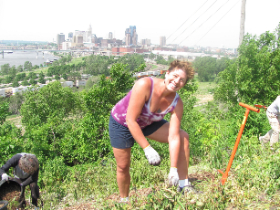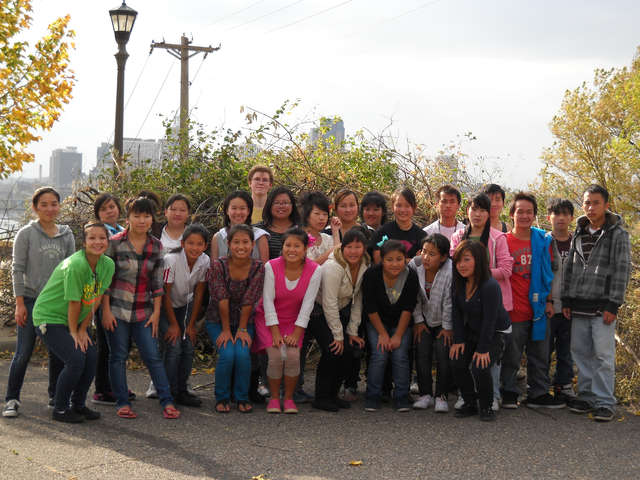 Indian Mounds Park is home to one of the most photographed river scenes in the metro area. The iconic overlook is also home to an exciting habitat restoration project.
Since 2011, FMR has been working with Saint Paul Parks & Recreation, students from nearby Harding High Earth Club, and volunteers from both the community (iincluding Friends of Mounds Park) and the larger metro area to restore the native bluff prairie on this historic park's overlook. Previous efforts have focused on the west side of the slope, and now volunteers are needed to expand the restoration by installing native plants on the east side of the overlook!
Alongside FMR and Saint Paul Parks staff, volunteers will plant a variety of native prairie plants on the overlook slope as a part of a multi-year effort to expand the prairie. The prairie plants will help anchor the soil on the steep bluff, preventing erosion and filtering stormwater runoff while improving wildlife habitat. Volunteers may also perform additional habitat restoration tasks, such as invasive species removal and watering. 
Tools, gloves and water will be provided. Please wear sturdy shoes and be prepared to work on steep and uneven terrain. While most FMR activities are family friendly, due to the tools and terrain this particular event is not suitable for small children.
Ready to register?
To ensure a high-quality experience, capacity is limited and preregistration required. Minors are welcome to participate with a parent or guardian. Teens 15 and up are welcome to participate without a guardian, however we'll need your guardian to complete this online minor permission form before we can officially register you.
To sign up, contact FMR Event Registrar Lindsay Hefferan via the contact form (please select "Volunteering" under "Category") or lhefferan@fmr.org, 651-222-2193 x31. Please include: the name of the event, your name, address and phone number and the number in your party.
You will receive a confirmation email and additional details, such as directions and what to wear, from Lindsay within, at most, a week. If you have earthlink or an active SPAM filter, please add her email address to your contacts to ensure receipt.
If you can't make this event but would like to be notified of future Indian Mounds Park or other restoration and education events, contact FMR Outreach & Volunteer Coordinator sue rich at srich@fmr.org, or sign up for our twice-a-month e-newsletter by entering your email in the periwinkle box at right and selecting "Mississippi Messages".