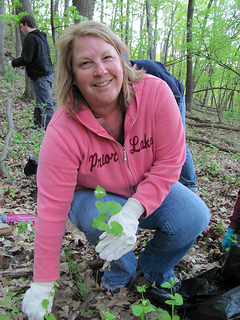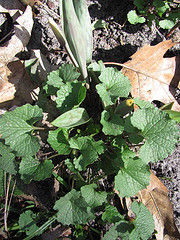 Photo: Karen Solas (who removed the garlic mustard) -- see more at www.flickr.com/friendsmissriv
The Pine Bend Scientific and Natural Area (part of the larger Pine Bend Bluffs Natural Area) is known for some of the best views of the Upper Mississippi River. It also provides much-needed habitat for birds in Mississippi River Flyway, filters pollutants from water runoff that would otherwise enter the river, and is simply a welcome respite from the bustle of the cities. Although just 20 minutes south of St. Paul, volunteers will feel like they're hours away as they help restore this hidden gem. 
Volunteers will work with FMR staff to identify and remove garlic mustard, an exotic plant that outcompetes native plants for nutrients, light and space. Removing these weedy species will help to enhance Pine Bend's ecological integrity, important for our wildlife, waters and preservation of the site.
Although a serious threat, garlic mustard is fairly easy to identify and quick to pull by hand. You should be able to see a big difference in just a couple hours of work. Also, volunteers who are interested may receive a card certifying them to return to this Department of Natural Resources site to complete additional, indpendent garlic mustard removals with friends and families if they wish.
As always, training, gloves, tools and guidance will be provided. Pledge to Pull participants will also have the opportunity to sign on to a buddy list, exchanging their contact information to carpool and return to the area together.
Ready to register?
Note: This event was originally scheduled for May 8th, and had reached capacity. While all registrants for the original event have first dibs for sign-up, we expect a few spots to open up so please let us know if you'd like to help.   
To ensure a high-quality experience, capacity is limited and preregistration required. Minors are welcome to participate with a parent or guardian. Teens 15 and up are welcome to participate without a guardian, however we'll need your guardian to complete this online minor permission form before we can officially register you. 
To sign up, contact FMR Event Registrar Lindsay Hefferan at lhefferan@fmr.org, 651-222-2193 x31. Please include: the name of the event, your name, address and phone number and the number in your party.
You will receive a confirmation email and additional details, such as directions and what to wear, from Lindsay within, at most, a week. If you have earthlink or an active SPAM filter, please add her email address to your contacts to ensure receipt.
If you can't make this event but would like to be notified of future Pine Bend or other restoration and education events, contact FMR Outreach & Volunteer Coordinator sue rich at
srich@fmr.org
, or sign up for our twice-a-month e-newsletter, Mississippi Messages, by entering your email in the periwinkle box at right.
Learn more about:
• the Pine Bend Bluffs Natural Area and FMR volunteers
• FMR's land conservation program
• the Pine Bend SNA conservation project
• Scientific and Natural Areas in Minnesota