Sorry! This event has reached capacity and registration is no longer being taken. Please consider volunteering for another habitat restoration event. To receive event notices and other river news in your inbox, you can sign up for our twice-a-month enewsletter, Mississippi Messages, in the periwinkle box on the right.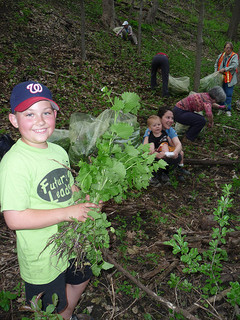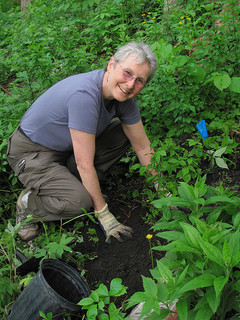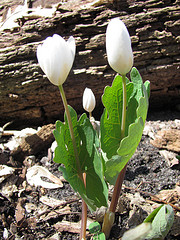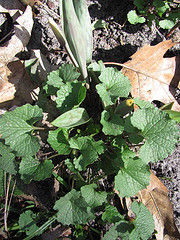 Photo: Karen Solas (who removed the garlic mustard) -- see more at www.flickr.com/friendsmissriv
Enjoy the beauty of early spring at a riverside park while helping protect native plants from an invasive species.
Nestled at the bottom of the gorge at the confluence of the Mississippi and Minnesota rivers, Crosby Farm Park is a natural oasis in the heart of the city. The area volunteers will be working in is home to a striking array of spring wildflowers native to Minnesota — Dutchman's breeches, trout lily, and Jack-in-the-pulpit to name a few — all in need of volunteer assistance.

After a brief introduction to this hidden gem and quick training, event participants will help protect these spring ephemerals and other important species by removing the extremely invasive plant known as garlic mustard. FMR's Flickr site features photos of both the ephemerals at Crosby as well as the volunteers who helped protect them as part of last year's Pledge to Pull program. 
On the upside, although a serious threat, garlic mustard is not only easy to identify but quick to pull by hand. These characteristics make removal of this invasive species the perfect restoration activity for volunteers who want to work independently — to continue to improve wildlife habitat and the health of their watershed after the event, at times most convenient for them.
We ask that volunteers participating in this event sign a Pledge to Pull, promising to remove garlic mustard in this area of Crosby Park for a total of eight hours** in the weeks following this training event. They will also receive a small card certifying their participation in the training and granting permission to independently perform this volunteer service in this area, part of the City of St. Paul park system and the Mississippi National Park.
** This means an additional six hours beyond the event. And, if you bring someone with you, you can count their hours as well. For example, if you participate in the 2-hour training and removal session, then bring your partner and a friend for a 2-hour session that you schedule yourself, that totals 8 hours: 2 for the training, plus 6 hours of work from the follow-up, independent session!

Note: All volunteers who contribute 20 hours or more through any and all FMR volunteer events and opportunities within a calendar year earn a Friends of the Mississippi River SuperVolunteer t-shirt and special advance invitations to select events.
Ready to register?
Unfortunately, this event has reached capacity. But we very much need volunteers at other upcoming events. 
To receive event notices and river news in your Inbox, sign up for our twice-a-month e-newsletter by adding your email to the periwinkle box above right. 
More information
Photos from last year's Pledge to Pull kickoff at Crosby are available here on our Flick site.
Read this volunteer's beautifully written and descriptive blog entry on a previous pledge-to-pull training and kickoff at Crosby.
This event is part of the Gorge Stewards program,which actively engages citizens throughout the Twin Cities in the stewardship of the national treasure that is the Mississippi River Gorge.