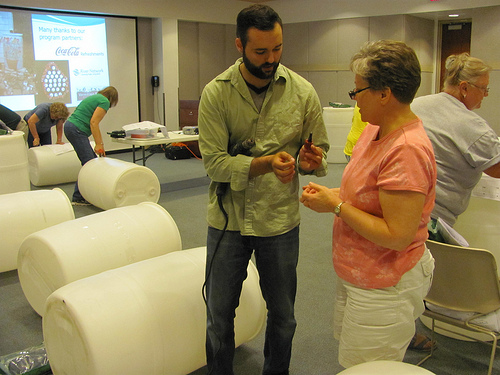 Sorry! This workshop has sold out. But you can add your name to the waitlist (see below), or consider signing up for our upcoming free Vermillion Stewards workshops: Make Your Home River-Friendly and Landscape for the River: Native Plants, Raingardens, Lawn Care for Water Quality (+ Winter Tips).
Installing a rain barrel is a simple, powerful way to protect our local waters.
When there's a heavy rain, rainwater washes over your roof, your yard and pavement — carrying bits of roof shingles, pet waste, fertilizer, pesticides, motor oil and dirt into the nearest storm drain. All of this pollution goes right into our local creeks, lakes and the Vermillion and Mississippi Rivers — unfiltered, untreated!

Rain barrels collect some of the runoff from our roofs and help us keep the water where it can be a resource, so we can put it to use on our lawns or gardens, instead of carrying pollution into the river.
Rain barrels and raingardens also slow the flow of water from big storms, helping to prevent massive fluctuations that can cause erosion and overwhelm our local waters with sediment and other pollution.

Plus, most households spend 40% of their summer water bills watering their yards and gardens in the summer. Using water from your rain barrel is free!
Coca-Cola Refreshments in Eagan, Minnesota has provided FMR with 25 used 55-gallon syrup containers. During the course of this workshop, participants will be provided with the necessary parts ($30 per kit) and guided through the process of converting these containers to rain barrels.
The workshop will begin with a presentation on the many ways in which home lawn and garden practices impact the health of our waters and what we can do to make a difference. We'll discuss the watershed-friendly benefits of rain barrels, how to build them, and how to incorporate them into your yard, including installation, maintenance and safety. With guidance from FMR and Coca-Cola staff, participants will then build a rain barrel to take home. 
This event is part of the Vermillion Stewards program, which engages citizens in the care of the Vermillion River and its watershed and the special places within it.

Ready to register?      
Please click the button below to be added to the waitlist. If a spot becomes available, you will receive an email from eventbrite. You'll have 24 hours to open it and complete your registration by purchasing the barrel and installation kit ($30) before the invitation passes to the next person on the list.
The barrels are 55-gallon containers that are white but paintable. The conversion kit uses a diverter system that eliminates the need to cut gutter downspouts or install over-flow valves, and eliminates potential for mosquito breeding.
... You may also be interested in our upcoming River-Friendly Homes and Landscape for the River workshops.
Want a friend, family member or coworker to sign up?
• Click "Send to a friend" below
• Post this event on your Facebook wall by copying and pasting the url into a status update:
http://www.fmr.org/participate/events/rainbarrel-2014-09-25