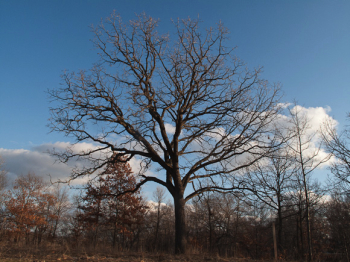 Photo: Peter L. Johnson 
Just off the main path along the Minneapolis riverfront lies a surprisingly beautiful and rare oak savanna. Join ecologist Carolyn Carr for an interpretive tour of this special place, and learn about its history, ecology and the role of volunteers, the community and FMR in its preservation and restoration.
Gorge Stewards volunteers have embraced and played a key role in the health of this community gem. This area harbors the highest quality plant communities remaining in the River Gorge, including a mesic prairie and a remnant oak brushland/woodland undergoing restoration to oak savanna. At River Gorge Stewards events, volunteers remove invasive species, pick up litter, collect seeds, plant native species, and more. Thanks to their countless hours, not to mention the collaboration of many partner organizations, the area that was once a buckthorn thicket now has renewed life.
Carolyn has worked with the River Gorge volunteers at the oak savanna and nearby areas for years, and has a great deal of experience conducting educational and outreach programs to protect open space and restore natural areas, particularly in urban areas.
Read more about the history of this oak savanna at this oak savanna workday listing. 
If you'd like to help restore habitat at the oak savanna, consider signing up for this October 13th volunteer restoration event.
Ready to register for the tour?
This tour is free but preregistration is required. If you're certain you would like to and are able to attend, online registration is immediately available :

If you have difficulty with the registration system, please contact Katie Clower at 651.222.2193 x23.
-----
Are you printing this for someone who doesn't have internet access?
If you do not have internet access, please do call us and register by phone. Contact Katie Clower at 651.222.2193 x23. In your voicemail, please include:
• their full name,
• the name of the event,
• the number in their party,
• their home address including ZIP,
• number(s) where they can be reached for confirmation, and
• an indication of familiarity with this general area and/or a request for directions from their home or other starting point so we may call them back with directions.