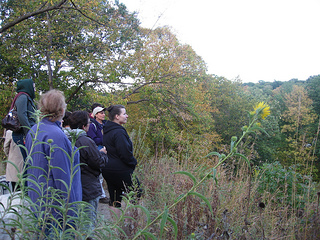 Sorry, this event has reached capacity and registration is no longer being taken. Please consider the September 26th wetland ecology tour in Cottage Grove or the Indian Mounds Park tour in St. Paul October 3rd!
---------------
Just off the main path along the Minneapolis riverfront lies a surprisingly beautiful and rare oak savanna. Join ecologist Carolyn Carr for an interpretive tour of this special place, and learn about its history, ecology and the role of volunteers, the community and FMR in its preservation and restoration.
Gorge Stewards volunteers have embraced and played a key role in the health of this community gem. This area harbors the highest quality plant communities remaining in the River Gorge, including a mesic prairie and a remnant oak brushland/woodland undergoing restoration to oak savanna. At River Gorge Stewards events, volunteers remove invasive species, pick up litter, collect seeds, plant native species, and more. Thanks to their countless hours, not to mention the collaboration of many partner organizations, the area that was once a buckthorn thicket now has renewed life.
Carolyn has worked with the River Gorge volunteers at the oak savanna and nearby areas for years, and has a great deal of experience conducting educational and outreach programs to protect open space and restore natural areas, particularly in urban areas.
Read more about the history of this oak savanna at this oak savanna workday listing.
Participants will also find out about upcoming opportunities to help restore the oak savanna and other special places in the Mississippi River Gorge this fall.
Contact for tour participants:
If you have already registered for this event and would like to cancel or have questions, please contact Lindsay Hefferan at 651.222.2193 x24. Lindsay is typically in the office Mondays, Wednesdays and Thursdays.