Remnant Bluff Prairie Restoration & Buckthorn Smothering
Submitted by

srich

on Fri, Aug 8 - 11:19 AM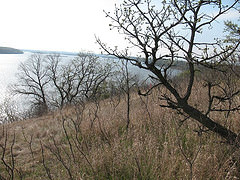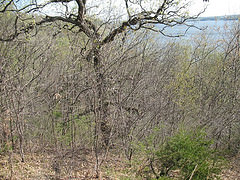 Just southeast of River Oaks Golf Course lies a riverfront bluff with stunning views and a special remnant bedrock bluff prairie. Unfortunately, this city park, River Oaks, is also home to a good deal of buckthorn and other invasive species.
Roughly 30 years ago this remnant prairie was renown as a very high quality area with excellent biodiversity. Over the years, however, it has steadily declined. According to a city-commissioned report in the late 90s, if no management efforts [occur] soon, the prairie will slowly be taken over by non-native species.
Recently, Friends of the Mississippi River began working with the City of Cottage Grove to preserve and restore this important site. Now volunteers are needed to join FMR Ecologist Joe Walton September 27th at our first restoration event at River Oaks Park.
Volunteers will work closely with Joe as well as Stewardship Coordinator Adam Flett to remove buckthorn and collect native seed. Volunteers will haul out precut buckthorn, helping to open the canopy and make way for more beneficial native prairie and savanna plants to return. Volunteers will also implement a new chemical-free method for killing buckthorn: wrapping thick reusable "baggies" around buckthorn stumps to suffocate the trees over the course of a year. A few volunteers may also be asked to help collect native seed for further restoration.
Ready to register?
To ensure a high-quality experience, capacity is limited and preregistration required. Teens are welcome to participate with a parent or guardian. (Because of the steep dropoff, this is not a safe site for small children.)
To sign up, contact FMR Event Registrar Amy Kilgore via our contact form (please change Category from "general inquiries" to  "volunteering") or at akilgore@fmr.org, 651-222-2193 x31 Please include: the name of the event, your name, address and phone number and the number in your party.
You will receive a confirmation email and additional details, such as directions and what to wear, from akilgore[at]fmr.org within one to two business days. If you have earthlink or an active SPAM filter, please add Amy's email address to your contacts to ensure receipt.