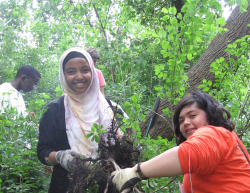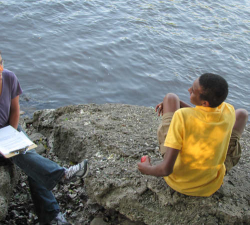 Join us at Mixed Blood Theatre as youth leaders from the Cedar Riverside Youth Council celebrate and present their restoration work with FMR in Minneapolis's first public park — Riverside Park — then present a water-quality panel discussion connecting and contrasting issues in our watershed with those of their countries of origin, including Somalia. Event attendees will also learn about and be invited to join a tour and restoration event this fall as we continue this exciting project.
As part of the 3rd Annual Cedar Riverside Youth Awareness Week, this evening event will include a presentation of photos from FMR/Youth Council events, testimonials from council members and a panel discussion about water issues and resources in the land of 10,000 lakes and in Somalia, where clean-water access is a daily life-and-death matter. There will also be literature from FMR and project sponsor Mississippi Watershed Management Organization on what we can do locally to help protect our waters, as well as free snacks.
All ages are welcome to attend and share in celebrating the Mississippi River and the vibrant Cedar Riverside community and learn about the local and global aspects of water-quality work. Participants will also be invited to join us for a September 15th native planting and September 22nd tour of Riverside Park.
About the project
The Cedar Riverside Youth Council is a dynamic group of youth leaders, ages 13-21, that organizes events and activities to make positive contributions to their community. Their impressive list of achievements includes working with the Minneapolis Park & Recreation Board to build a soccer field in Currie Park, hosting events to improve relationships between neighborhood youth and local law enforcement, opening a coffee kiosk in the Brian T. Coyle Community Center, participating in mural projects and hosting numerous other sports and youth engagement activities.
This year, the Youth Council partnered with FMR for a series of educational workshops and stewardship events in the Cedar Riverside neighborhood, supported by a Stewardship Fund Program grant from the Mississippi Watershed Management Organization. Through this program, Youth Council members learned about urban runoff and stormwater pollution, and visited nearby sites along the Mississippi River to learn about local water-quality concerns. They then participated in two restoration events at Riverside Park, working with volunteers in FMR's Gorge Leadership Team and ecologist Carolyn Carr to remove buckthorn and garlic mustard and plant native prairie plants in the park.
Youth Council cofounders and FMR interns Mary Metchnek and Mohamed "MJ" Jama have played an integral role in the project and are taking the lead on producing River Awareness Day.
No RSVPs required
This event is drop-in; registration is not required, and guests are welcome to come for any or all of the presentation. Questions can be directed to FMR Youth Educator Katie Clower, 651-222-2193 x23. 
More information about the Cedar Riverside Youth Council and other events during Youth Awareness Week is available at www.cryouthcouncil.org.
Directions
The Mixed Blood Theatre is located in the Cedar-Riverside neighborhood at 1501 South 4th Street, Minneapolis, MN 55454.  Parking is limited, but the theatre is accessible by LRT and bus.
• Driving directions are available here.
• The theatre is also conveniently located next to several bus lines (routes 2, 3, 7, 16, and 22) in addition to the Cedar-Riverside LRT Line (route 55) and the Hiawatha-LRT bike trail. For directions from your starting point, please use the Trip Planner at MetroTransit.org.
• By bike, from the Greenway, take the Hiawatha-LRT bike trail north until 15th Avenue just past the Cedar-Riverside Platform. Turn right and follow 15th Avenue towards Cedar.
Help us get the word out!
• Please post this event link on facebook or in your twitter feed.
• Select "Send to a Friend" below to email this calendarpage to a friend or two.
• Download and print the flyer attached below to post in your neighborhood hangout or workplace.