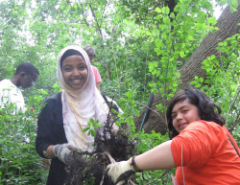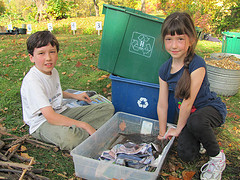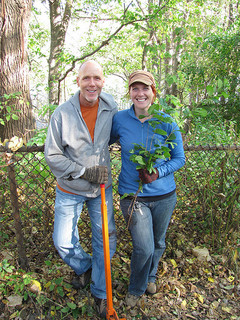 Restoration volunteers enjoy getting to know this special area and take pride in helping to protect it.
Join the Mississippi River Gorge Stewards at Riverside Park, a significant riverfront, community park in Minneapolis's Cedar-Riverside neighborhood (and part of Seward, as well).
Working alongside ecologist Carolyn Carr, who developed this park's restoration plan, and FMR River Stewardship Coordinator Karen Solas, volunteers will help improve local wildlife habitat and watershed health by replacing invasive species with primarily native shrubs and some trees. These native species will help improve wildlife habitat, control erosion, and contribute to watershed health.
Riverside Park, located on the west-bank bluffs of the Mississippi River just north of I-94, appears at first glance to be a quiet, typical neighborhood park. Given a closer look, though, the park reveals complex layers of historical and natural interest. The 40-acre park is actually the first public park in the city. It is located on two levels, with the steep, wooded river bluff and its WPA-era stone stairs and walls separating the upper and lower areas.
In 2010, FMR partnered with the West Bank Community Coalition and Minneapolis Park & Recreation Board to begin the ecological restoration of special places within the park. In spring and summer 2012, FMR partnered with the Cedar Riverside Youth Council, engaging additional youth and connecting with a broader community of people about the project. Whether recent immigrants or longtime residents, students or restoration professionals, individuals, families or small groups — many people from the neighborhood and from throughout the Mississippi River Gorge have contributed their time and talents to help restore this community gem.
Volunteers have helped remove invasive species then replant areas with native grasses, flowers and small shrubs. Although this event is just two hours in length, volunteers can rest assured their work is part of a larger, long-term restoration and will continue to be built upon. Photos from previous Riverside Park events are available at FMR's Flickr site, including the last native planting here in October 2010, plus pictures from invasive species removals from October 2011, May 2011 and May 2010.
Ready to register?
To ensure a high-quality experience, capacity is limited and pre-registration required. To sign up, simply contact FMR's Katie Clower at kclower[@]fmr.org, or by selecting "Katie Clower" from the drop-down "Category" menu of our contact form. Please include: the name of the event, your name, address and phone number and the number in your party. You will receive a confirmation email and additional details, such as directions and what to wear, from kclower[@]fmr.org within, at most, a week.
Please add Katie's email to your address book to ensure receipt if you have an active spam filter or an earthlink email. 
Be sure to also check out the Riverside Park tour the following Saturday!