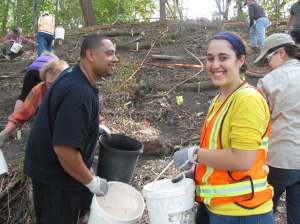 Help restore one of the first parks in Minneapolis!
Working alongside FMR ecologist Joe Walton and Stewardship Coordinator Adam Flett, volunteers will improve local wildlife habitat and watershed health by removing leafy invasive species (as opposed to woody trees like buckthorn) and assisting with watering and other ecological restoration tasks. The range of activities will be suitable for adults and youth, and everyone is encouraged to work at their own pace and ability level.
At first glance, Riverside Park (located on the west-bank bluffs of the Mississippi River just north of I-94) appears a to be a quiet, typical neighborhood park. Given a closer look, though, the park reveals complex layers of historical and natural interest. The 40-acre park is actually one of the oldest in the city. It is also a sort of split-level park, with a steep, wooded river bluff and its WPA-era stone stairs and walls separating the upper and lower areas.
In 2010, FMR partnered with the West Bank Community Coalition and Minneapolis Park & Recreation Board to begin the ecological restoration of special places within the park. In spring and summer 2012, FMR partnered with the Cedar Riverside Youth Council, engaging additional youth and connecting with a broader community of people about the project. Whether recent immigrants or longtime residents, students or restoration professionals, individuals, families or small groups — many people from the neighborhood and from throughout the Mississippi River Gorge have contributed their time and talents to help restore this community gem.
Since Riverside Park became the newest site in the River Gorge Stewards program, volunteers have helped remove invasive species then replant areas with native grasses, flowers and small shrubs. Although this event is just two hours in length, volunteers can rest assured their work is part of a larger, long-term restoration and will continue to be built upon. Photos from previous Riverside Park events are available at FMR's Flickr site, including the last native planting here in October 2010, plus pictures from invasive species removals from October 2011, May 2011 and May 2010.
Ready to register?
To ensure a high-quality experience, capacity is limited and preregistration required. Minors are welcome to participate with a parent or guardian. Teens 15 and up are welcome to participate without a guardian, however we'll need your guardian to complete this online minor permission form before we can officially register you. 
To sign up, contact FMR Event Registrar Lindsay Hefferan via the contact form (please select "Volunteering" under "Category") or lhefferan@fmr.org, 651-222-2193 x31. Please include: the name of the event, your name, address and phone number and the number in your party.
You will receive a confirmation email and additional details, such as directions and what to wear, from Lindsay within, at most, a week. If you have earthlink or an active SPAM filter, please add her email address to your contacts to ensure receipt.
If you'd like to be notified of future Riverside Park and other restoration and education events in the Mississippi River Gorge in Minneapolis and St. Paul, contact FMR Outreach & Volunteer Coordinator sue rich at srich@fmr.org, or sign up for our twice-a-month e-newsletter, Mississippi Messages, by entering your email in the periwinkle box at right.