St. Paul's new storm drain stencil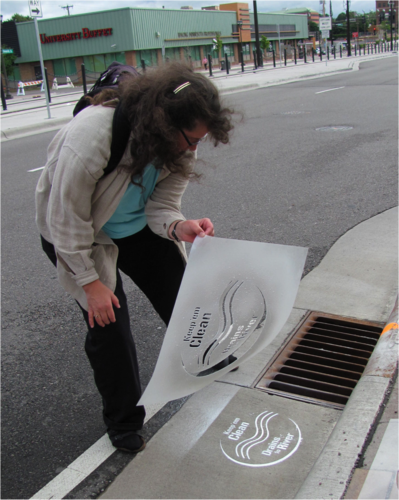 Photo: Katie Clower/FMR
As of this fall, the City of St. Paul has a brand new storm drain stencil. The new stencil, which reads "Keep 'em Clean, Drains to River," comes in the 20th year of the City's storm drain stenciling program, which began in 1993. The stencil will be painted next to storm drains across the city as a reminder to residents and visitors that our streets – and any pollution on them – connect directly to local lakes and rivers.
The new stencil design was a collaborative effort. Through the Associated Colleges of the Twin Cities CityLabs program, the City of St. Paul worked with a graphic design class at Augsburg and a writing class at Hamline to develop new designs for both the stencil and an informational door-hanger. The top designs were further refined by student-designer Tyler Bredow, and the first batch of stencils was produced by Minneapolis-based Create Laser Arts. The new stencil was first used at the Open Streets Festival on University Ave. on Sept. 15, 2013, in conjunction with the River-Wash project (see River-Wash article in this issue). The new door-hangers are expected to be released in early 2014.
Storm drain stenciling began as an educational campaign in the late 1980s, when urban runoff became recognized as an important source of non point-source pollution. Common pollutants such as litter, fertilizers and pesticides, road salt, oil and gasoline, and even dead leaves or grass clippings are carried down the drain by rain and snowmelt, harming our local lakes and rivers.
The City of St. Paul began marking its storm drains in 1993, and in 1995 the City contracted with Friends of the Mississippi River to lead local volunteers in this effort. FMR now leads 30-40 stenciling outings per year, in which volunteers from schools, churches, and other community groups learn about urban water pollution and then paint the stencil message next to storm drains in St. Paul neighborhoods. Since 1993, in St. Paul alone, approximately 20,000 volunteers have stenciled over 47,000 storm drains and distributed more than180,000 door hangers. The stencils last on the street for one to three years, depending on weather and traffic conditions. The City of Minneapolis also offers storm drain stenciling to volunteers.
You can learn more about Friends of the Mississippi River's Storm Drain Stenciling program, or visit the City of St. Paul's Stormwater Management Page.