Stream Health Evaluation Program Training & Kickoff [FULL]
Submitted by

srich

on Tue, Jun 4 - 12:02 PM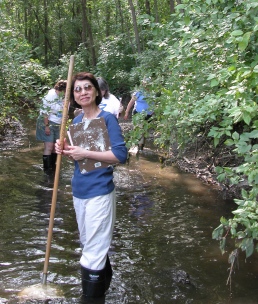 This training is exclusively for those who registered to join the 2014 Stream Health Evaluation Program. SHEP is now full, but feel free to read through the description and be in touch with the SHEP Coordinator (see below) if you'd like to be placed on a waitlist for 2014. Openings for 2015 will be announced in May or June 2015 via the Mississippi Messages e-nwesletter; sign up via  the periwinkle box to the right.
Please note: For this particular program, volunteers must live or work in the Rice Creek Watershed District. RCWD is approximately 186 square miles of urban and rural land in Anoka, Hennepin, Ramsey and Washington Counties. Please check your home and work address on this map. If you find that you do not live in the Rice Creek Watershed District, please consider MNWHEP, a similar program.
SHEP volunteers are everyday people trained to meet professional-grade stream health testing standards. After the August training, SHEP volunteers conduct testing and data analysis in the stream and the laboratory during September and October. Volunteers work in small teams and put in an average of 40 hours between training, sampling, and data analysis. The program is led by scientists from the Rice Creek Watershed District and Fortin Consulting. Training and is held at the Wargo Nature Center in Lino Lakes.
About SHEP
Since 2006, FMR has coordinated SHEP in the Rice Creek Watershed District. SHEP uses trained volunteers to evaluate the biological health of streams by sampling benthic macroinvertebrates — small stream-dwelling bugs.
For 2014, there are currently 4 volunteer openings out of 30 volunteer spots. 
Citizen participation is actively encouraged, so there is no formal test or application process. That said, potential volunteers should first seriously consider the tasks and hours before signing up.
What to expect?
"SHEPers" should expect to spend a minimum of 35 hours on SHEP between trainings, stream collections, lab time, and the analysis and results celebration.
Training is required and will be led by professional scientists from Fortin Consulting. Volunteers must attend the field training and a lab training. The field training will be Saturday August 16th, 9 am to 3:30 p.m. at Wargo Nature Center. 
There will be two lab training times in mid- to late-September, one on a weeknight evening and one on Saturday morning. 
There is no prep work — you will be in the hands of excellent trainers who will teach you everything you need to know at the training and throughout the program as well. (8-10 hours)
At the training, you will also meet your team. Each volunteer is assigned into a team of 10. Assignments aim to ensure a variety of experience levels as well as schedule compatibility. Each team has a pre-determined leader who, among other duties, will coordinate the sampling and analysis schedule with you and the other team members. Typically, there is one team comprised of those available during the day and two teams who schedule SHEP activities for weeknights and weekends.
Teams will monitor reaches of local streams and lakes in September and early October. We can provide waders, but expect to get wet. (8-12 hours; Volunteers need not be at every sampling, groups can work around vacations and such.)
Teams identify collected macroinvertebrates in the lab in late October-November. (8-12 hours; Again, teams can work around vacations and other obligations.) Additional training and support provided closer to this time.
Scientists review the SHEPers' work in December and submit a final report to the Rice Creek Watershed District, MPCA and others regarding the data and what it indicates for local water quality. The results announcement and celebration will be in January 2015. SHEPers typically reach impressive accuracy levels of over 90%! In 2013, they averaged 97.9%! (2-3 hours)
Do I have to buy anything?
No. All equipment and training materials will be provided, as well as dinner and/or refreshments as needed. We appreciate your time and commitment!
Watershed relationships
As important as it is for SHEPers to produce great data, the program also impacts our community in other positive ways. SHEP brings volunteer monitors together with local officials and decisionmakers. These relationships allow SHEP volunteers to better understand how local decisions impact water quality and stream health, while at the same time reminding local decisionmakers of the importance of water quality.
Team members also very much enjoy getting to know other like-minded souls in their community.While some have professional science-related backgrounds, there are also many who hadn't looked into a microscope since high school biology. The teams are well-balanced and new members will be surrounded by more experienced volunteers not to mention the professional support staff and trainings.
To volunteer
If you're considering volunteering in 2015, or would like to be on the waiting list for 2014, please take a moment to confirm that you live or work within the watershed, then contact FMR's Program Assistant and SHEP Coordinator Katie Clayton with your name, address, e-mail address and day and evening phone numbers as well as a little bit about yourself and why you're interested in the program. Katie can be reached at 651-222-2193 x23 or kclayton@fmr.org. 
As all informational materials are provided during training sessions, there is little additional information on the program to consider beforehand. However, feel free to contact Katie at 651.222.2193 x23 if you'd like to talk more about whether the program is a good match to your interests and abilities before deciding whether to commit.