Dakota County
Thank you for your interest in the Vermillion Stewards program! This event was originally scheduled for November 21st, but after hearing from several people we decided to make it more of a celebration and season kick-off in early spring 2014.
Please let us know if you'd like to attend! We'd be delighted to add you to the email list to be notified of this and all other future Vermillion Stewards restoration and education events. To join the Vermillion Stewards email list, roughly six messages a year, please email FMR Outreach & Volunteer Coordinator sue rich at srich@fmr.org.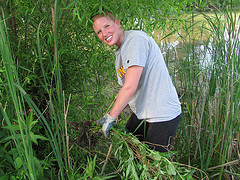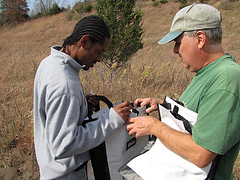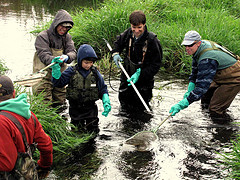 Photos: City of Hastings and Dakota County
The
Vermillion River is a cold water prairie river that runs through the heart of Dakota County. The only trophy trout stream located near a metropolitan area in the United States, it is also a major tributary of the Mississippi River.
Organized by FMR and funded by the Vermillion River Watershed Joint Powers Organization, the
Vermillion Stewards program
helps local residents learn about, protect and enhance this beautiful but imperiled river and its watershed. 
---- Orginal event description below ----
Come celebrate and learn about the Vermillion Stewards program!
First- and long-timers alike are welcome. Enjoy a meal (on us) and great camarederie as a slideshow featuring the people and places that make this program special runs in the background. After a few words from FMR staff and program sponsor the Vermillion River Joint Powers Organization, we'll also give a few gifts to our most dedicated stewardship volunteers. Help us acknowledge those who give their time to protect this important natural resource and learn how you can get involved.