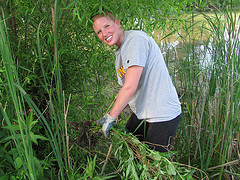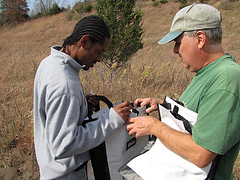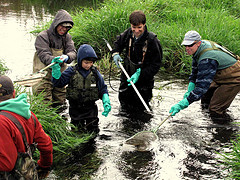 Photos: City of Hastings and Dakota County
Come celebrate and learn about the Vermillion Stewards program and events for the upcoming season!
First- and long-timers alike are welcome. Enjoy a meal (on us) and great camarederie as we look to kick-off another great season. After a few words from FMR staff and program sponsor, we'll also have a brief video presentation depicting a 'flyover' of the Vermillion River watershed from Travis Thiel of the Vermillion River Joint Powers Organization. Help us acknowledge those who give their time to protect this important natural resource and learn how you can get involved.
The Vermillion River is a cold water prairie river that runs through the heart of Dakota County. The only trophy trout stream located near a metropolitan area in the United States, it is also a major tributary of the Mississippi River. Organized by FMR and funded by the Vermillion River Watershed Joint Powers Organization, the Vermillion Stewards program helps local residents learn about, protect and enhance this beautiful but imperiled river and its watershed. 
Ready to register?
To ensure a high-quality experience, capacity is limited and preregistration required. Minors are welcome to participate with a parent or guardian. Teens 15 and up are welcome to participate independently, however we'll need your guardian to complete this online minor permission form before we can email you the details and full confirmation, including the directions to the meeting spot. 
To sign up, contact FMR Event Registrar Lindsay Hefferan via the contact form (please select "Volunteering" under "Category") or lhefferan@fmr.org, 651-222-2193 x31. Please include: the name of the event, your name, address and phone number and the number in your party.
You will receive a confirmation email and additional details, such as directions and what to wear, from Lindsay within, at most, a week. If you have earthlink or an active SPAM filter, please add her email address to your contacts to ensure receipt.
If you'd like to be notified of future Vermillion Stewards events, contact FMR Outreach & Volunteer Coordinator sue rich at srich@fmr.org, or sign up for our twice-a-month e-newsletter, Mississippi Messages, by entering your email in the periwinkle box at right.