Storm Drain Stenciling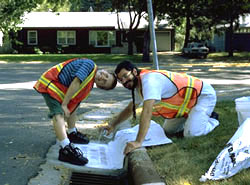 Photo © 1998 Friends of the Mississippi River
When you see a Twin Cities storm drain with the message: "Please! Don't Pollute! Drains to River," you're most likely looking at the work of an FMR volunteer. In 2006, 2,018 student and adult volunteers stenciled 3,943 drains and distributed 14,921 educational door hangers to Twin Cities households and businesses. Volunteers contributed 4,893 volunteer hours to this cause. FMR gave a non-point source pollution prevention presentation to each of the 63 groups of stenciling volunteers.
Get involved!
Get involved with Friends of the Mississippi River this season by stenciling storm drains in Saint Paul. Using paint and stencils, volunteers mark storm drains with the message, "Please Don't Pollute! Drains to Mississippi River!" and distribute doorhangers to neighborhood homes and businesses. Complete kits are available free of charge from FMR, and a representative will meet with your group to explain the threat of non-point source pollution and the purpose of the project. Volunteers living in Saint Paul can mark drains in their own neighborhoods.

This hands-on outdoor service activity is an ideal opportunity to improve our local water resources. Storm drains are part of the storm sewer system which carries untreated rain and snow-melt directly from the city's lawns and streets to rivers and lakes. This runoff from our urban landscape carries anything in the street — pesticides, antifreeze, fertilizer, motor oil, pet waste, and grass clippings — directly to the nearest lake or river. The stenciled message alerts citizens to this fact, and the doorhanger provides residents with techniques for proper disposal of substances that are commonly dumped or washed into storm drains.
For more information
FMR conducts this program April through October (weather permitting) in Saint Paul. For more detail on stenciling outings, please visit the stenciling overview. If you're ready to plan your volunteer stenciling outing, contact Stenciling Coordinator Sara Muchowski at 651-222-2193 x23 or through our contact page.
More resources
At the Watershed Action site you'll find help planning service-learning projects to prevent pollution in your watershed. Also access scientific background information, water-related curricula, and information from local experts:
http://cgee.hamline.edu/watershed/action/
Project Partner