'New' waterfalls for downtown Minneapolis? MPRB conducts East Falls Feasibility Study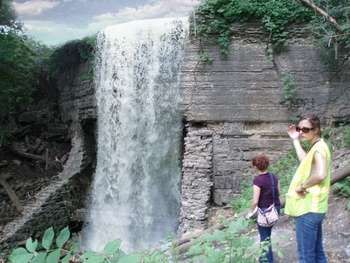 Graphic by Barr Engineering.
Once upon a time, St. Anthony Falls was a natural wonder that inspired 19th-Century painters and pioneers alike. The power potential of the only waterfall on the entire length of the Mississippi River inspired the city of Minneapolis to grow and become the milling capitol of the world. Extensive and sometimes makeshift structures were built atop the waterfall to harness the power, changing the landscape from one of natural beauty to urban industry. Although long constrained by the city's industrial purposes, an effort is now underway that could bring back a small piece of natural waterfall to downtown Minneapolis.
The Minneapolis Park and Recreation Board is conducting a feasibility study to determine if a waterfall can be recreated in Father Hennepin Bluffs Park. Most of the natural limestone that comprised the waterfall's ledge is buried beneath the concrete dam structure that traverses the main river channel. Between Hennepin Island and the east bank of the river, however, there are two small sections of original limestone shelf that overlook a small brackish backwater pool.
Barr Engineering and Hess Roise Historical Consultants are conducting the East Falls Feasibility Study, which includes developing design alternatives, cost of construction and potential impacts to historic, park, water and geologic resources. Two local agencies appropriated a total of $160,000 for the studies and to explore the workability of the project.
Initial design concepts were presented to the Central Riverfront Forum, a stakeholder group organized by the Minneapolis Riverfront Development Corporation, in early October. Participants were very enthusiastic about the graphic renderings of what the falls might look like. The graphics and map can be downloaded at the link below (note: they are large files). Improvements to trails in the area would also be needed to ensure the falls' visibility to park visitors.
There will be an update on the feasibility study at the next Central Riverfront Forum Thursday, December 9th at 6:30 p.m. The location is yet to be determined but will be near downtown Minneapolis. For more information about the project or the December meeting, please contact Cordelia Pierson of the Minneapolis Riverfront Corporation at 612-465-8780 x212 or .
For more information:
Or see these recent articles from the local press:
— Irene Jones, River Corridor Program Director