Edward C. Oliver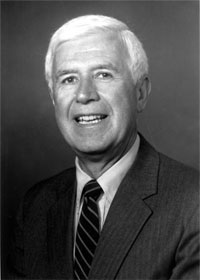 Professional experience: Arbitrator, FINRA Dispute Resolution, Inc.; Director, First Minnesota Bank, since 2001; President and Owner, Oliver Financial, since 1990; Minnesota State Senator 1993-2002 (also served as Assistant Minority Leader); President and CEO, Washington Square Securities, Inc., 1968 to 1990; Senior Intelligence Specialist, U.S. Air Force.
Other affiliations: Vice Chairman and Director, Minnesota State Arts Board; Member, Great Lakes Commission.
Education: B.A., Economics, University of Minnesota.
Family: Wife, Charlotte and three sons.
FMR Board Member since: 2004
Board committee: Development
Quote: "If you don't know where you are going, any road will take you there." — Yogi Berra
Hobbies: Tennis, sailing and foreign travel.
Interesting book: The World is Flat by Thomas Friedman.
Favorite Mississippi River location: Saint Anthony Falls
Favorite animal: Golden retriever
Last memorable vacation: Train and ferry boat tour around the Baltic states.
Favorite band: Doc Severinsen
Conservation/Environmental heroes: Teddy Roosevelt and Rachel Carson.