Minnesota Water Action Day
Event Date:
Wednesday, May 2, 2018 -

8:00am

to

4:00pm
Location:
Minnesota State Capitol & Christ Lutheran Church, St. Paul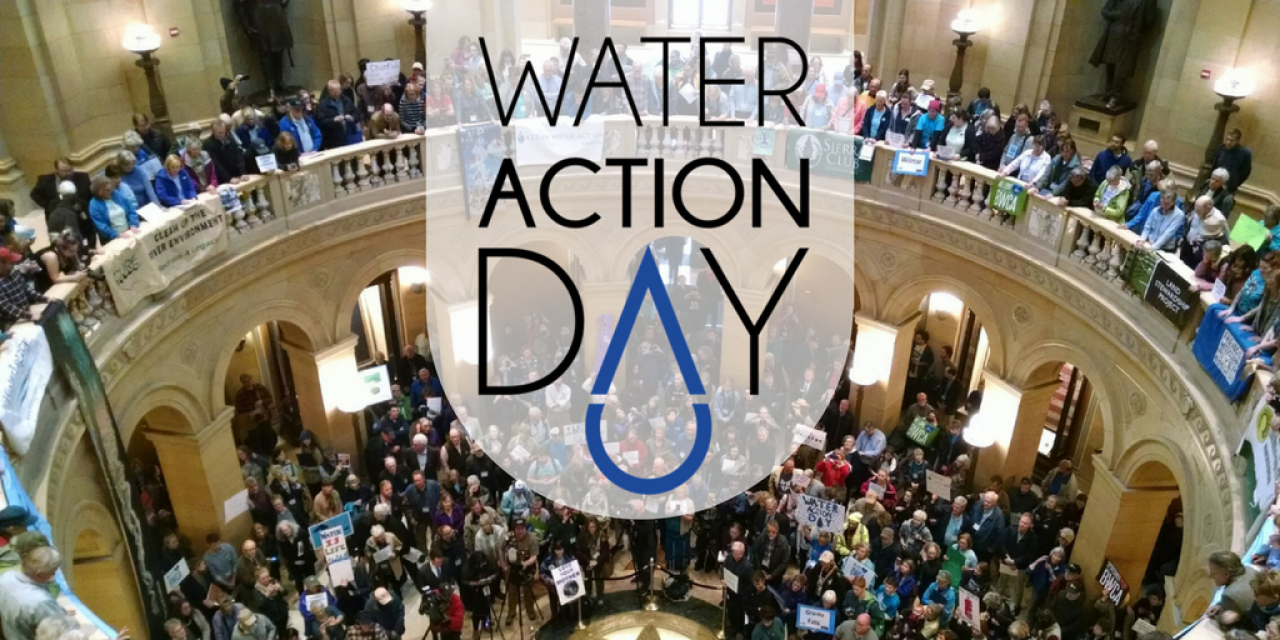 Join us for Water Action Day 2018, a day of public action and advocacy to let lawmakers know we care about our water. #ProtectOurWater!
This all-day event will include free breakfast and morning briefings on Minnesota's water issues and how to actively engage with our legislators about them. Throughout the day, attendees will meet with legislators to ask them to protect our water, and the Clean Water Rally will be held in the Capitol Rotunda at 1:30 p.m.
You can sign up for all or part of the day. (And us event organizers really appreciate early signups!)
Schedule:
- Complimentary breakfast: 8-10 a.m.
- Training and issue briefings: 9 a.m.-noon
- Meetings with your representatives: throughout the day*
- Complimentary lunch: 11 a.m.-1 p.m.
- Rally in the Rotunda: 2:00 p.m.
- Youth Summit with Governor Dayton: TBD
* Our team will schedule small group meetings with each legislator (House and Senate). Participation in these meetings is optional but encouraged for all Water Action Day attendees.  
Bus transportation: Buses are being coordinated from multiple locations across Greater Minnesota. More information coming soon. 
Parking: Parking information (both free and low cost) and all other relevant details will be included in your registration confirmation email.
Additional Information: Organizers will distribute additional information, including schedules, transportation options, policy highlights and more, to all participants in advance of Water Action Day.
Questions? Email MNWaterActionDay@gmail.com.
Partners:
Sponsors: Clean Water Action, Friends of Pool 2, Friends of the Boundary Waters Wilderness, Friends of the Mississippi River, Izaak Walton League - Minnesota Division, Land Stewardship Project, League of Women Voters, Minnesota Environmental Partnership, ONE BluWorld, Sierra Club North Star Chapter, St. Croix River Association. Partners: Conservation Minnesota, Environment Minnesota, The Nature Conservancy, Pesticide Action Network, Wilderness in the City.