February's climate talk a great success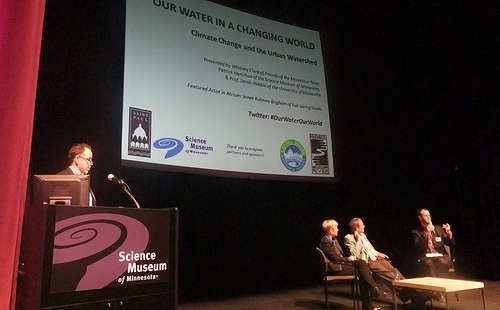 Photo: Irene Jones/Friends of the Mississippi River
As Patrick Hamilton of the Science Museum of Minnesota would say, it should be "climate changed" when we speak about climate change. While the world is continuing to change at a pace unseen in recorded history, putting changes in the past tense will help everyone recognize the urgency surrounding one of the largest issues facing humankind and our lovely planet that sustains life.
At our recent presentation, "Our Water in a Changing World: Climate Change and the Urban Watershed," 250 concerned citizens heard about global and local changes. Both Patrick Hamilton, Director of the Global Change Initiatives program at the Science Museum of Minnesota, and Prof. Sarah Hobbie, of the University of Minnesota's Department of Ecology, Evolution and Behavior, spoke to the changes that are taking place and what they might mean for our cities and water resources.
Hamilton first spoke to the compelling evidence illustrating changing climates across the globe, and in Minnesota: on both scales we are seeing rising average annual temperatures and increases in extreme rainfall events. In Minnesota we've experienced a higher degree of water-driven disasters; specifically, Hamilton cited multiple 1000-year floods in Southern Minnesota over a 5-year span and the recent 1000-year flood in Duluth, Minnesota as clear evidence of how climate change has manifested. Similarly, in 2008 the state of Minnesota ranked 3rd in '"catastrophic losses", which has been reflected in a recent bump in average home insurance premiums.
Prof. Sarah Hobbie spoke second, and honed in on our local watersheds. Her research has focused on nutrient and water cycling in the Twin Cities and has compiled ample data on where most of our nitrogen and phosphorous pollution comes from in the urban setting: leaves and dog waste. With plenty of data to back it up, Prof. Hobbie illustrated specific points about nitrogen and phosphorous from yard run-off, and offered tips on how homeowners can help by picking up pet waste regularly, sweeping leaves out of the streets and maintaining healthy lawns and gardens.
For the last 28 years, the planet has seen rising global annual averages temperatures as a result of human activity. Many businesses as well as local, state and federal governments are preparing to adapt for changes in our environment. By employing best practices at home, and by asking more of our neighbors, community leaders, and legislators, we too can make a difference in this collective issue facing humankind.