Habitat protected at confluence of Vermillion, Mississippi Rivers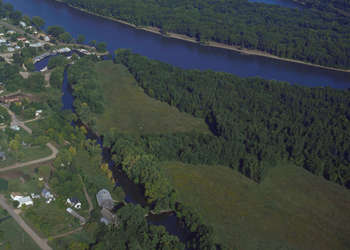 About 297 acres in six parcels at the confluence of the Vermillion and Mississippi Rivers in Dakota County is becoming public land, thanks in part to the dogged effort of FMR staff and several other partnering organizations over the last seven years.
Previously owned by the estate of Raymond Frietag, the land includes significant portions of the Vermillion River Bottoms, a half-mile of Vermillion River and a mile of Mississippi River frontage. The land lies within the city limits of Hastings, whose urbanized area lies immediately to its west. Managed by the Minnesota Department of Natural Resources, the northern portion will be an aquatic management area, and the south end will be a wildlife management area, where some hunting will be allowed.
Dakota County officials contributed to purchase of the land by the DNR by providing $250,000 from the Countys Farmland and Natural Areas program.
DNR and Dakota County are just a few of the partners who made the deal happen, says FMR Conservation Director Tom Lewanski.
The protection effort began in 2000 when conservationists — including FMR, Metro Greenways, the DNR and Trust for Public Land — identified the property as having significant ecological values and held several meetings to explore potential protection scenarios.
Lewanski characterizes FMRs role, in part, as keeping the project alive. Fluctuations in agency interest in the land and proposals for its development left its fate in question for many years. This project took a lot of left turns and right turns and it took a while to come together. We did a lot of liaison work among governments and worked with the community. It was an informal role, but I think it was a crucial one. Im not sure anyone else would have had the sticktoitiveness to hang in there.
Although a portion of the land was once farmed and grazed, it is now fallow and there are no structures, making it one of the largest tracts of natural area in the vicinity.
The entire Freitag property will be managed by the Minnesota Department of Natural Resources. Approximately 111 acres will become a part of the Gores Pool Wildlife Management Area (WMA) with at least some hunting taking place. About 186 acres will be managed as an Aquatic Management Area (AMA). Modeled after wildlife management areas, AMAs are purchased from willing sellers to protect the environmentally vital shoreline and shallow water edge of lakes, streams and rivers.
FMR will continue to play a role in the project, partnering with the City of Hastings to develop a resource management plan for the land, with the help of a grant. As part of the plan, FMR and partners will inventory the sites natural features.
This property is a big piece of important habitat that is close to being permanently protected and publicly accessible for different forms of recreation, Al Singer, coordinator of Dakota County's Farmland and Natural Areas Program, told the Saint Paul Pioneer Press.