March — Heralds of spring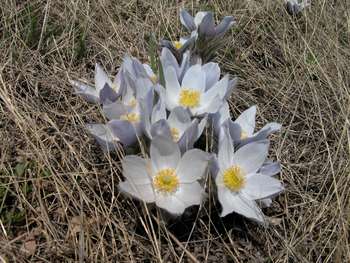 Photo: Tom Lewanski
Queue the trumpets: spring is on its way. One of the early vertical migrants (ok, I just made that up) to show up here in da tundra of Minnesota is the pasque flower (Anemone patens). Holmes Rolston, the environmental ethicist and philosopher once wrote:
The pasqueflower symbolizes all that is missing in the wintry landscape, and should there come a spring without the regeneration it prefigures, the winter would have grown lethal. Wildness without its flora would be only the bleak and conquering storm, and it is this florescence that the pasqueflower helps us to celebrate because it dares to bloom when the winter of which we have wearied is not yet gone. [sic]
Need I say more?, Of course I do.
This diminutive but beautiful plant, which adorns dry prairies and oak savannas, often begins to emerge when snow can still be found in shaded areas, usually in April. As temperatures rise and soils begin to thaw, this plant begins to send up a group of deeply cut basal leaves which in turn give rise to a hairy stalk containing a single, white, blue or purplish flower.
To wander on a prairie remnant at a time of year when the colors of the landscape are brown and gray and to suddenly come upon a pasque flower encampment is a true joy. Tis a little early to be writing about this prairie forb, but I wanted to give you ample time to find a stretch of dry prairie and to plan your excursion. Heck, people plan very carefully to search out the morel mushroom. Have you seen a morel? Um, nothing there to excite the eyes or imagination. Now, a pasque flower in bloom is a thing of beauty. Van could have been writing about trekking a prairie and coming upon a pasque flower in bloom (he wasnt, but he could have) when he wrote:
This must be what it's all about
Oh this must be what it's all about
This must be what paradise is like
So quiet in here, so peaceful in here
So quiet in here, yeah, so peaceful in here.

— Van Morrison, So Quiet in Here
This has been a long winter. Dont get me wrong, I like winter between December 1st and March 20th. After that, though, I am looking for a sign — an affirmation that life is still there. The pasque flower does that for me. If you find one and a smile doesnt immediately take over your entire face, call me and I will give you your money back, no questions asked.
— Tom Lewanski, Conservation Director