Minnesota's 2014 legislative session update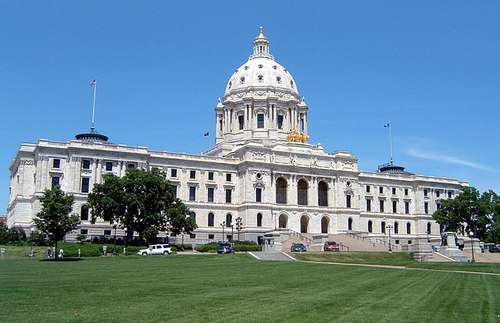 Minnesota's 2014 legislative session is off to a fast start. This year, FMR and our partners in the Minnesota Environmental Partnership will address three reforms critical to our clean water future:
Phasing-out the triclosan-contamination to Minnesota's surface waters,
Re-establishing the Legislative Water Commission, and
Investing in innovative, sustainable crop development through the University of Minnesota's Forever Green Initiative
Here is an update on our progress so far:
Triclosan Phase Out (HF 2772):
Representative Diane Loeffler has introduced HF 2772, a bill to phase-out the sale of triclosan-based soaps, sanitizers, and body cleaning products. This is a priority issue for FMR this session, since triclosan poses a variety of risks to human and environmental health and leads to dioxin pollution in Minnesota lakes and rivers.
This bill has received bi-partisan support and passed the House Health and Human Services Policy committee on Friday, March 7th. After terrific testimony from Rep. Diane Loeffler, former State Epidemiologist Dr. Michael Osterholm, and Healthy Food Action's Dr. David Wallinga, the bill received strong support from the committee and was passed by a very wide margin.
The bill now goes to the House Commerce and Consumer Protection Finance & Policy committee. The bill has support from Rep. Joe Atkins (committee chair) and Rep. Patti Fritz (vice-chair), with a strong chance for passage in the coming weeks.
You can help secure passage of this bill by participating in FMR's triclosan phase-out petition.
Additionally, there is growing support for this bill from public health agencies, corporate manufactures, and research leaders. For example:
The Minnesota Department of Heath and the Minnesota Pollution Control Agency are now formally recommending that triclosan products not be used.
The Food & Drug Administration states there is no evidence that triclosan products provide any health benefit to consumers.
The Mayo Clinic and Minnesota's Center for Disease Research and Policy (CIDRAP) recommend using alternative products that better protect consumers.
Multiple companies including Johnson & Johnson, GlaxoSmithKline, and Proctor & Gamble have committed to removing triclosan from their products.
Some recent media coverage of triclosan includes:
Legislative Water Commission (HF 1769 & SF 243)
Rep. Peter Fischer (HF 1769) and Senator Chuck Wiger (SF 234) have introduced bills to re-establish Minnesota's Legislative Water Commission. The commission is a bi-partisan 12-member panel charged with vetting clean water policy and administrative initiatives. Originally created by Minnesota's Groundwater Protection Act, it is an important tool for advancing legislative understanding of surface and groundwater issues, funds, programs, and governance in Minnesota. Re-establishing this commission, especially at a time when water issues have become more prominent and complex in our state, is a strong step forward for Minnesota. Currently, these bills are moving through the house and senate, with hearings scheduled in multiple committees.
Forever Green (HF 2619 & 2304)
Rep. David Bly (HF 2619) and Senator Kevin Dahle (SF 2304) introduced bills for the Forever Green Initiative.
Agricultural runoff remains the largest source of pollution in Minnesota's surface waters. Minnesota's cropland is dominated by corn and soybean production, which is prone to nutrient loss and erosion while providing little habitat or climate benefit. The state needs additional funding to develop cover crops and perennial crops that protect soil health and water quality while maximizing economic return for producers.
The Forever Green initiative will do just that. These bills would appropriate funds to the commissioner of agriculture for a grant to the board of regents of the University of Minnesota to fund the initiative. This funding will accelerate development of economically viable cover crops and perennial crop options that enhance farm prosperity, water quality, climate stability, and habitat.
Other Bills:
Several other bills have the potential to impact water quality and environmental health this session. one is the Minnesota Pollution Control Agency's Toxic Reduction Act (HF 2542 and SF 2192), a promising tool for reducing lead and mercury pollution. A bill to establish a state hydrologist (HF 2088) also has strong potential, as do a variety of policy and funding initiatives.
For more information of FMR's water quality priorities, contact FMR's Water Program Director Trevor A. Russell at (651) 222-2193 x18 or trussell@fmr.org.