'State of the River Report' release a hit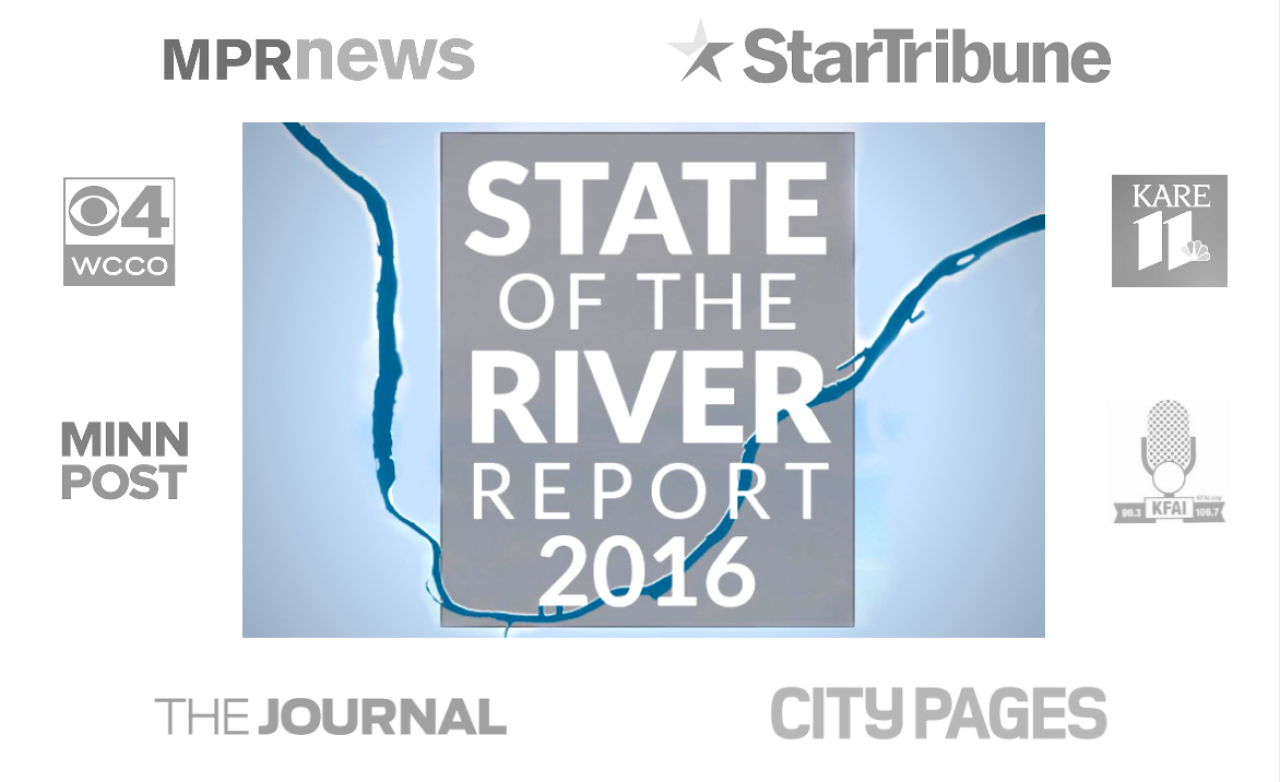 October 19, 2016
On September 21, FMR and our local unit of the National Park Service released the updated edition of the award-winning State of the River Report.
The report highlights the status and trends of 14 key indicators of river health, presenting each in a way non-scientists can understand. It addresses factors that impact swimming and fishing, river life, ecological health and other issues that, taken together, provide a clear picture of the overall health of the large and dynamic metro Mississippi River.
Media coverage
Since its release, the State of the River Report has been warmly received. The report received broad state and national media attention, with news outlets from Washington D.C to San Francisco covering its release. Locally, excellent news coverage from print, radio and TV news outlets has spread the word about the State of the River Report to over a million Minnesotans.
The full report is available at StateoftheRiver.com.
Companion guides
We know that clean water is everyone's responsibility, and we can all do our part to help protect this vital natural resource. To help readers make use of the State of the River Report, we've also created three companion guides.
Stewardship Guide 
The Stewardship Guide provides the top 10 practical steps individuals can take in their home, yard and community to improve the health of the Mississippi.
Teacher's Guide
The brand new Teacher's Guide helps teachers and students carry the lessons of the report into the classroom. Lessons are anchored in Minnesota state standards providing information, resources and activities to fulfill specific learning benchmarks. Related service projects are also suggested to help students translate what they've learned into action.
Policy Guide
The FMR Policy Guide offers priority actions that federal, state and local leaders can take for the river. This top 10 list of policy reforms will help decision-makers prioritize river-friendly policies that will help address many of the issues facing the river today.
All the guides, as well as the full report are available to view online or download at StateOfTheRiver.com.
Catch State of the River near you
The goal of the State of the River Report is to reach a broad audience with clear and concise information on the health of the Mississippi. With that in mind, FMR and our local Mississippi River National Park Service will be presenting the report's findings to organizations across the state in the months to come.
You can view a list of upcoming presentations, or request one for your group, at the State of the River Report events page.
Thank You!
This report would not have been possible without the tireless work of our distinguished  scientific advisors, our generous funders, and contributing FMR members. On behalf of everyone at FMR and the National Park Service, a heartfelt thank-you goes out to all the organizations and individuals who helped make this report a reality! We look forward to continuing to carry its lessons forward.