Thank you, Kala and Annie!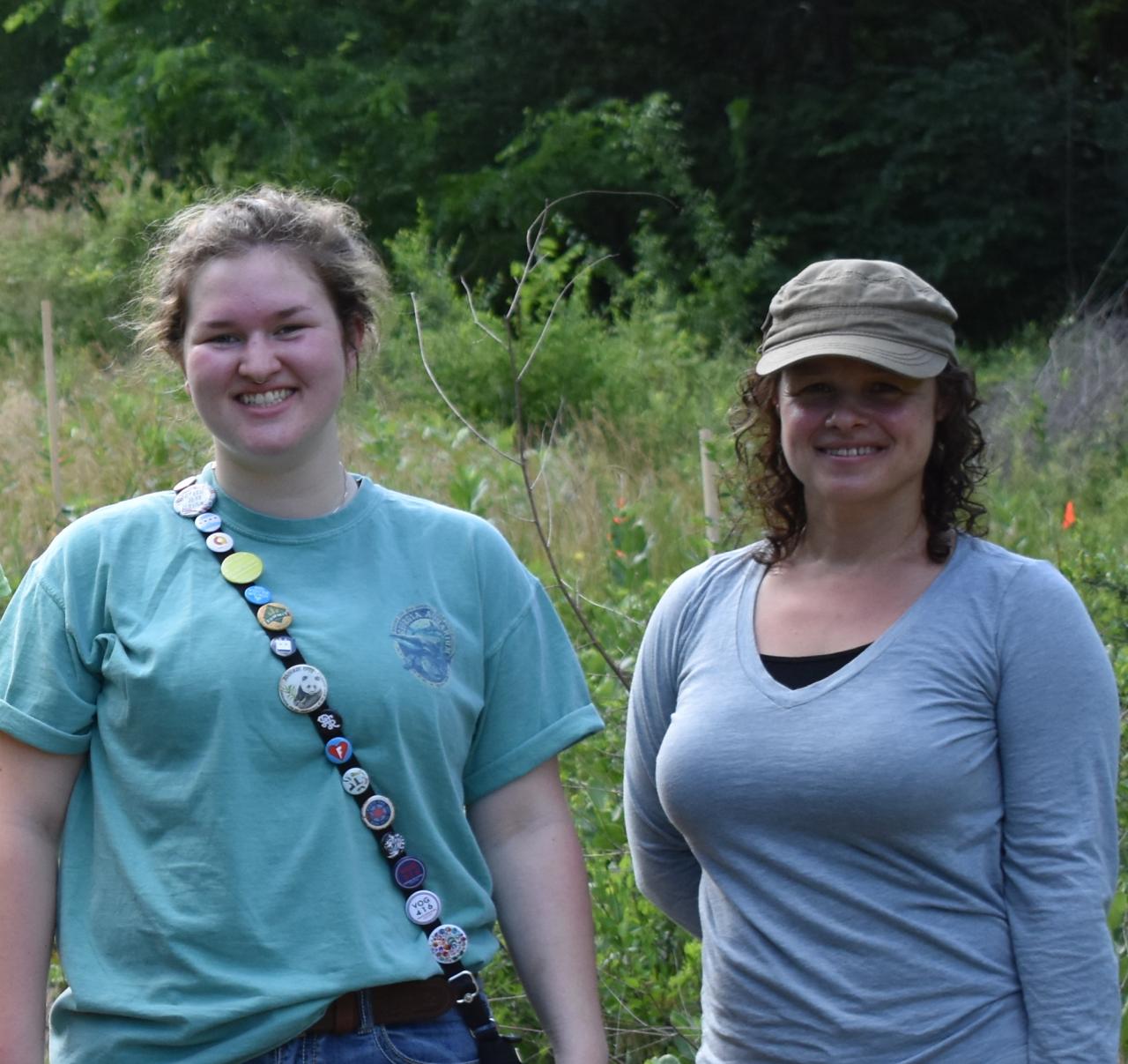 Annie Dubner (left) and Kala Peebles, our stellar summer 2017 intern and SuperVolunteers, about to examine milkweed plants for monarch eggs and caterpillars.
November 9, 2017
Many thanks to Kala Peebles and Annie Dubner for their help this 2017 field season!
Kala, an FMR SuperVolunteer, took the lead on FMR's first monarch monitoring project, and also initiated an orchid survey. Kala, who recently earned herPh.D. in Natural Resources Science and Management at the University of Minnesota, was truly indispensable.
She helped volunteers conduct surveys for monarch eggs and larvae and entered their data. While our results were lean — volunteers counted just 47 eggs and two caterpillars on roughly 350 milkweed plants — it turned out we had better results (more insects/eggs) than some other Monarch Lab study sites. And for researchers working to support the reproduction of this struggling species, such information is vital.
Kala also lent her considerable knowledge and practiced hand at several volunteer events — a great help to all of us outings staff! Surely, she'll soon be scooped up for full-time ecological endeavors, but we hope to continue to see her in the coming volunteer and field seasons.
Another familiar face at FMR events and pretty much every activity this summer was intern Annie Dubner. The St. Paul native and University of Washington student helped with breeding bird surveys, vegetation surveys, native plantings, volunteer events and joined Kala for weekly monarch monitoring.
Whether taking photos or expertly recording field data, we could count on Annie to not only competently take on every task thrown her way but to be reliable and cheery in the process – even swarms of mosquitos didn't faze her! We look forward to seeing where her skills and personality take her as she pursues her studies.
Thank you, Kala and Annie for your hard work and contributions this summer! We wish you the best and look forward to being in touch.