A warm goodbye to longtime office manager Michele Bevis!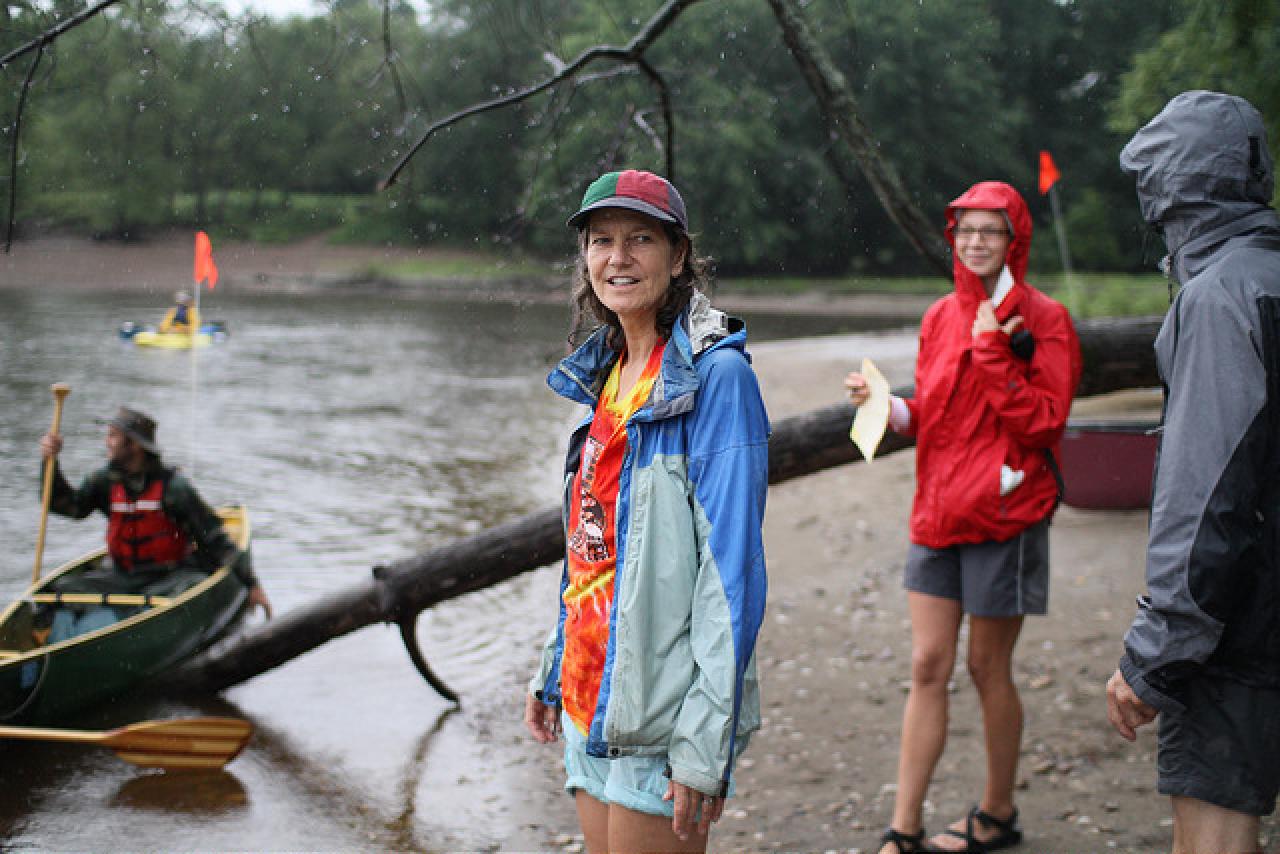 Whether helping paddlers come in to shore or aiding staff befuddled by new printers, office manager Michele Bevis was there with a steadfast and most welcome hand. Bon voyage, MB!
March 20, 2018
While FMR is known for our work at the Capitol and in the communities, forests and prairies along the river, we'd be lost without a strong home base. And that's exactly what Michele Bevis, our office manager, has provided for over 10 years. 
So it is with deep gratitude that we say goodbye to Michele as she embarks on her next phase: a relaxing yet adventurous retirement.
Charting her own path
Michele came to FMR with a wide variety of experiences in both the nonprofit and for-profit sectors. 
For 17 years she could frequently be found outdoors and on rooftops in her work as a professional carpenter. Taking what she refers to as the "curvy road to college," she earned her degree in women's studies and nonprofit management at Metro State University in St. Paul. Bringing her interests together, Michele taught building trades vocational skills at the Shakopee Correctional Facility for Women, which she describes as the most adventurous job she had inside four walls. 
Next, she served as warehouse manager of the original Reuse Center in Minneapolis, giving new life to everything from wooden flooring to antique doorplates salvaged from Twin Cities homes. She enjoyed making remodeling more affordable to do-it-yourselfers and helping to reduce our collective environmental footprint.
Helping us navigate change
Building on her conservationist values, Michele came to FMR in 2008 — just in time to help us navigate significant changes in nearly every facet of office life.
From fancy printers to complex phone systems, Michele has seen us through it all. In summer and fall of 2016, she even orchestrated our move to an entirely new building, making it smoother than any of her fellow 18 staff could ever have imagined.
And it was very much like her to wait for us to fully settle in before retiring; her conscientiousness is greatly appreciated by staff and volunteers alike.
"We would often show up to stations already set up with everything that was needed, including a sample of a finished mailing for us to follow," says Jason Anderson, a longtime member of the volunteer Tuesday Night Crew coordinated by Michele. "I appreciate all the extra effort she would put into it. Plus, she taught me a nifty way of sealing multiple envelopes at one time!"
While her envelope sealing methodology remains a house secret, many of Michele's skills and interests are well-known. Besides keeping our headquarters running smoothly, Michele is a fixture at our outdoor habitat restoration events, famous for her rapid-fire buckthorn removal skills as well as her curiosity.
"She puts in countless hours as an FMR Super Volunteer," says FMR ecologist Alex Roth. "She's always interested in and asking questions about our restoration work. It's fun to see that level of passion on a daily basis, both in and out of the office."
Coming up next
An avid outdoorswoman, Michele plans to continue to add to her collection of Super Volunteer T-shirts and to hone her flyfishing skills in what's sure to be a very active retirement. She looks forward to spending more time with her family and traveling with her husband Steve Wardell, who is also a Super Volunteer greatly appreciated for his infectious enthusiasm and assistance both in the FMR office and at our restoration sites.
Michele has been learning Spanish and has spent time in Cuba, Guatemala, Peru, Mexico and Costa Rica. Now, amongst a long list of other must-see spots, she's looking forward to planning a trip to Nicaragua.
So with this, we must say happy trails, Michele! Thank you for keeping our FMR home running smoothly all these years. We'll miss you in the office but look forward to seeing you (and Steve, and perhaps your grandchildren?) at our habitat restoration sites, this Earth Day and beyond!