Special Places: Lilydale Park & Harriet Island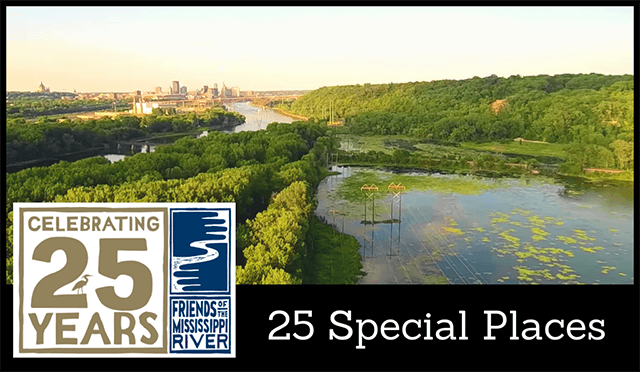 Although lesser-known, the St. Paul riverfront on the west (or south) side of the river is home to miles of riverfront parkland and trails. (Lilydale photo from Eric Jaakola/YouTube.)
This month in our special places silver anniversary feature, we recommend checking out the miles-long stretch of riverfront parkland on St. Paul's west bank: Harriet Island and Lilydale Park.
(Yes, this part of St. Paul is on the same side of the river as Minneapolis.)
Lilydale Park
Dramatic river bluff views. Miles of trails. Massive cottonwoods and floodplain forest. Historic sites. What doesn't Lilydale Regional Park have to offer?
Long-beloved to community members of the nearby West Side neighborhood, this hidden gem has become better known since bike and pedestrian trails were added or widened as part of the park's recent and ongoing makeover. Since the early 2000's, neighborhood groups and the city, with input from the community and FMR, have been adding amenities, restoring habitat and even altered the course of the road through the park to be less of a commuter's thoroughfare.
Lilydale's story is one of transition and recovery. Before it was a park, it was a village, a dump, and industrial area.
The village of Lilydale was established in 1866 on the river flats, but floods eventually forced the small city to move up to the top of the bluff above.
For decades it was home to two large dump sites, from which the city has removed an impressive 5,309 tons of asbestos and 42 tons of lead.
And from 1894 until the 1970s, the park was home to a large brickyard that processed shale quarried from the bluff above. (Please note: The trail from the brickyard up the bluff is wonderful, but stretches are often closed due to construction to stabilize slopes.)
From the occasional interpretive signage to broken bricks or stray lilac trees in the floodplain forest, evidence of Lilydale's history is apparent to those who look for it.
But now it's more of a naturalized park, featuring woods, wetland and prairie habitat. Plus, some of these natural areas are getting a helping hand from us humans.

This drone video by Eric Jaakkola features Pickerel Lake and nearby trails. When it climbs sky-high, you can see the lake, the Mississippi, the High Bridge and nearby downtown St. Paul.
In addition to offering extensive bike and pedestrian trails, Lilydale is home to Pickerel Lake, an easy and relaxing spot to canoe, kayak or put in another small boat. Prairie restoration along the lake's wetlands and boat landing are helping to maintain water quality in the lake, which is replete with the lily pads that inspired Lilydale's name.
The restored prairie areas are also excellent bird habitat, as are three types of forest around Pickerel Lake. Keep an eye out for bald eagles and owls here as well, Lilydale is known for both.
Harriet Island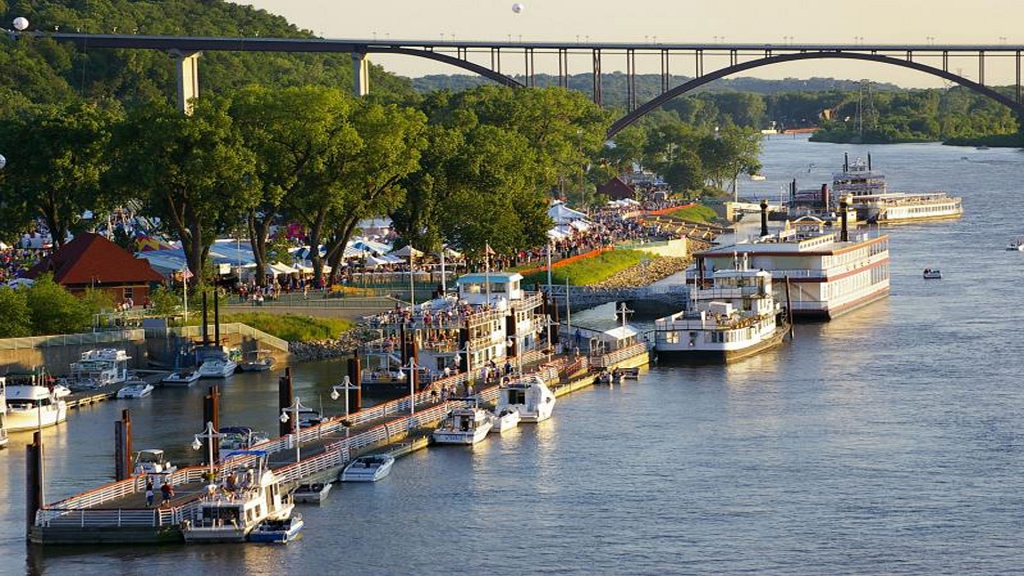 Harriet Island is known for its festivals and paddleboats, some offering local river cruises for $10-$18. (Photo courtesy of VisitStPul.com.
Follow the road and trails eastward out of Lilydale and you'll find yourself at Harriet Island.
This popular park is best known for its riverfront pavilion, playground and old-timey paddleboats. But while you're there be sure to check out the landmark cottonwoods and kayak rental.
Many metro residents have seen the paddleboats dotting the riverfront along Harriet Island when they drive over the Wabasha or Smith Avenue bridges above. While some boats are for special events only, others offer daily sightseeing cruises for $10-$18 (discounted to $10 for all on Mondays).
Harriet is also the take-out for the Paddleshare program. Kayaks are available at Hidden Falls Regional Park just upriver. From here, you paddle 6.3 miles with the current to return the boat to the locker at Harriet. Rentals are $25 for a single kayak, $40 for a tandem and you have three hours of rental time, which is usually more than enough to make the trip.
By the way, FMR staff selected this Hidden Falls-to-Harriet Island route for our 2017 staff paddle and recommend it highly. For much of it, you feel as if you're hours out of the city. But when you're done, you're just across from downtown St. Paul.
While you're here, head across the Wabasha bridge to check out the National Park Service visitor center for our local Mississippi River national park. Located in the lobby of the Science Museum of Minnesota,120 W. Kellogg Blvd., St. Paul, the visitor center is free and full of great information and tips. (Plus, many Twin Cities residents enjoy spotting their home on the giant floor map of our metro area with the river coursing through it.)
Zoom in and click on the gold stars for the locations profiled in this article (click the arrow in the pop-up window for directions) or check out the whole Special Places map so far in full-screen via the squarish icon top right.
25 Special Places
This profile is part of FMR's 25 Special Places project, which we undertook to celebrate our silver anniversary year and the metro Mississippi River in 2018. We've compiled all these places into our Explore the River page, an interactive Google map and set of guides to help you get to know the river that shapes our metro area.