Special Places: Cocktails on the river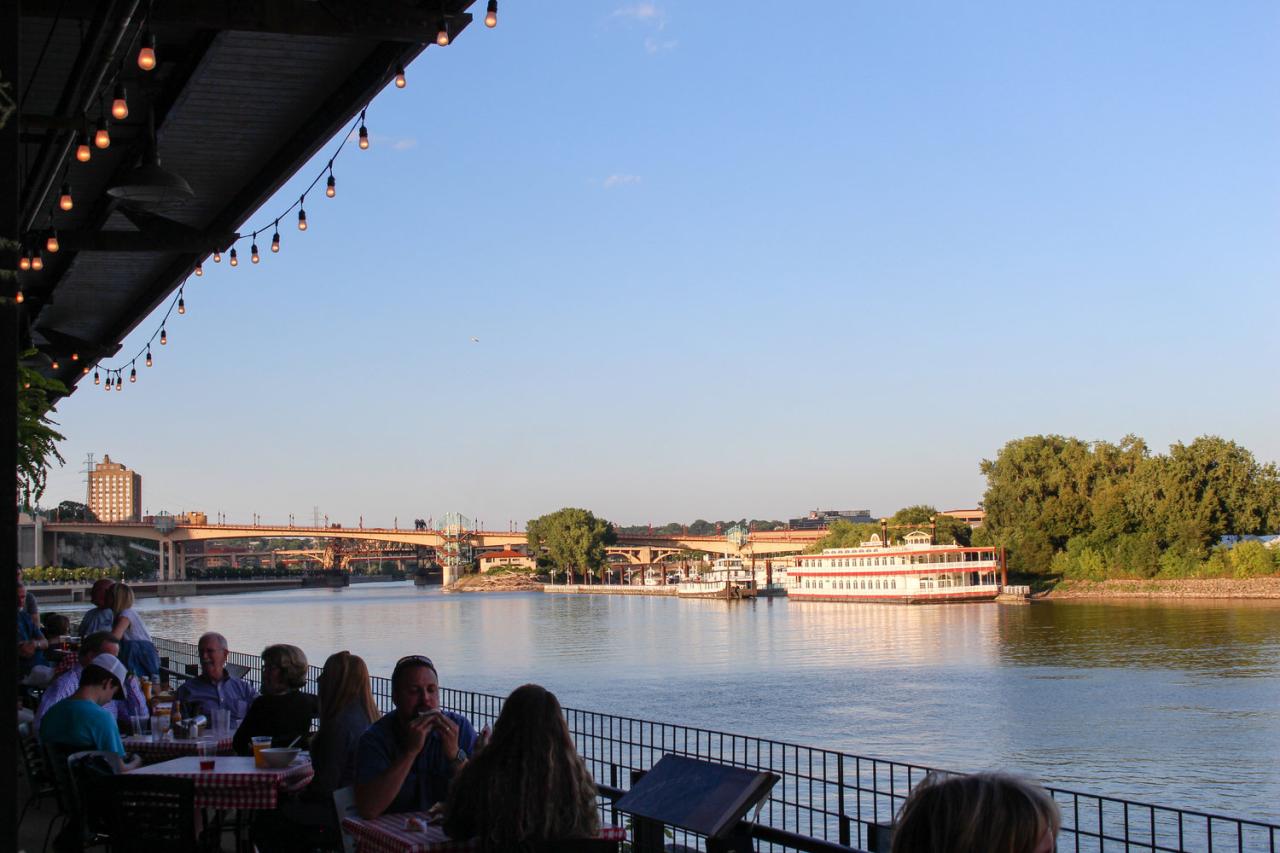 This month in our ongoing special places silver anniversary feature, we suggest a couple of our favorite spots to grab a cocktail (or mocktail) and watch the river flow by.
Psycho Suzi's Motor Lounge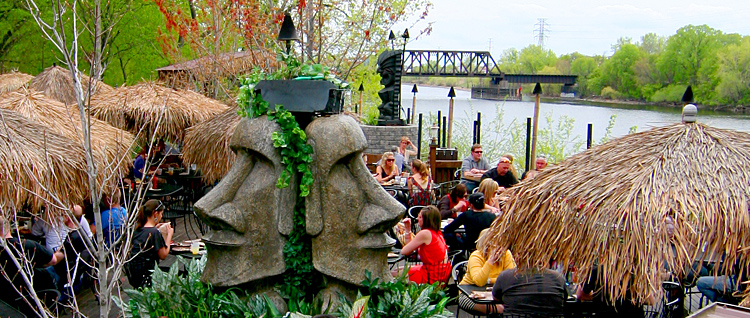 While many Minneapolis restaurants and bars are close to the river, there's only one we know of where the water courses right alongside you ... and it happens to be a giant tiki lounge.
Located just south of the Lowry Avenue Bridge (see map below), Psycho Suzi's offers a unique place to unwind and enjoy our urban river. Amidst its 50s kitschy, Polynesian-inspired flair, you can nosh, sip and take in the view of a riverfront in transition.
Suzi's is best known for their pizza, including tasty, offbeat combinations like "Thailand Island," featuring spicy peanut sauce and pickled carrots. They also serve burgers, a few salads, pu pu (trays of American Chinese or Hawaiian food) and brunch. A few gluten-free, as well as vegetarian dishes, are available. Vegans may want to check the full menu ahead of time or ask their server for options.
The beer and wine list is decent. Most items cost between $5-10. But for liquid consumables this waterfront lounge is best known for tiki drinks like the Psycho Zombie and the Paralyzed Polynesian. Such fancier fare runs roughly $8-15, a bit more if you want to keep the super cheesy mugs they come in.
Before you roll into the lounge, check out some nearby FMR restoration sites. Tucked behind the Grain Belt Brewery complex, Sheridan Park features a stunning riverfront raingarden and a memorial for veterans and peace. Across the river, Ole Olson Park is known for its city skyline views above a blooming pollinator prairie.
These parks represent the ongoing transition of the North and Northeast Minneapolis riverfront. This stretch of the river, Above the Falls, is shifting from primarily industrial usage to continuous parks and trails. (To receive emails about upcoming Above the Falls Stewards events, contact Amy, volunteer@fmr.org.)
You can also get down to the river from Psycho Suzi's. Head just to the north of the patio at the western edge of the parking lot and you'll see a footpath to the river. Take the dirt path straight to the sandy riverfront shore. A word of warning: there is neither a boardwalk nor barriers there, just beach. You may want to check it out before you have a drink.
If you're thinking of coming with a group, be sure to check out the website to gauge the vibe beforehand. After all, this is a place that prides itself on bad taste; it may not be to everyone's liking. But enough people love it that you may want to get there early to beat the dinner rush. Psycho Suzi's doesn't take reservations.
Ample parking is available in the adjacent lot and, if needed, surrounding streets.
Red River Kitchen at City House
Red River Kitchen at City House offers a casual dining experience on the banks of the Mississippi River in St. Paul.
City House is the warm-weather home of Red River Kitchen — a food truck that offers a variety of seasonal food, local craft beer, cocktails and wine on tap. The setting is a historic grain elevator on the banks of the Mississippi River, which has been beautifully restored with huge ferns suspended from the rafters, glass garage doors that open for an airy feel, and picnic tables scattered throughout.
The large space leaves ample room for bean bag toss and other games, making it a perfect destination for families or groups of friends. Coveted tables on the waterfront patio overlook the river and Harriet Island. Visitors can wave to passing boats and barges as they dine.
Highlights of the menu include their award-winning cubano, a variety of tacos, and walleye and veggie bowls ranging from $8-10. A kids menu is available for little ones, as well as snacks like chips with guacamole and salsa, and a few small sweets.
A rotating variety of local craft beers and ciders range from $6-8, and wines on tap are $8-9. Popular cocktails like the Minnesota mule and gin and orange blossom tonic run $7-8.
City House is situated on the riverfront bike path, parallel to Shepard Road just west of downtown St. Paul (see map below). Free parking is available on nearby streets, and several bike racks are out front.
Try a few dishes when you visit with family and friends. The cubano and chicken tinga tacos are popular choices.
From its setting on the St. Paul riverfont, City House is the perfect destination following a bike ride, paddle or a visit to Harriet Island or Lilydale Park.
Mississippi River Pub

If you're looking for a casual, Midwestern bar with waterfront access, Mississippi River Pub fits the bill.
Located between the Inver Grove Heights Marina and Swing Bridge Park, this unassuming bar and grill offers standard pub fare, friendly staff and a large patio where you can spot eagles and herons as the river wends by.
The menu is fairly standard, heavy on appetizers and burgers. (Though they do offer a solid veggie burger option.)
In the drinking department, think more small-town than trendy urban locale. There are a few carefully selected craft offerings alongside the 3:2 drafts, but this place is too laid back to cater to aficionados. Wine is available, of the cute single-serve mini-bottle variety, as are cocktails with river- and water-themed names.
When you go, don't worry about parking (it's ample), but do make sure you take extra time to check out the nearby Swing Bridge Park (see video below), one of FMR's volunteer restoration sites. It's right along the road to the pub and features a span of a historic rail bridge that takes you out into the river, affording very nice views of several small river islands. (To receive emails about events at this site, email Amy at volunteer@fmr.org.)
Oh, and if you have a boat, you can launch from the pub for a small fee. Just check in with the bartender.

This aerial video offers a beautiful overview of Swing Bridge Park and affords a glimpse of the marina and Mississippi River Pub next door.
Want more dining and drinking options near our beloved river? An Eater Twin Cities article offers a few more spots to check out.
Zoom in and click on the brown stars for the locations profiled in this article (click the arrow in the pop-up window for directions) or check out the whole Special Places map so far in full-screen by clicking the squarish icon in the top right.
25 Special Places
This profile is part of FMR's 25 Special Places project, which we undertook to celebrate our silver anniversary year and the metro Mississippi River in 2018. We've compiled all these places into our Explore the River page, an interactive Google map and set of guides to help you get to know the river that shapes our metro area.