Rice Creek Watershed District wins state water quality grant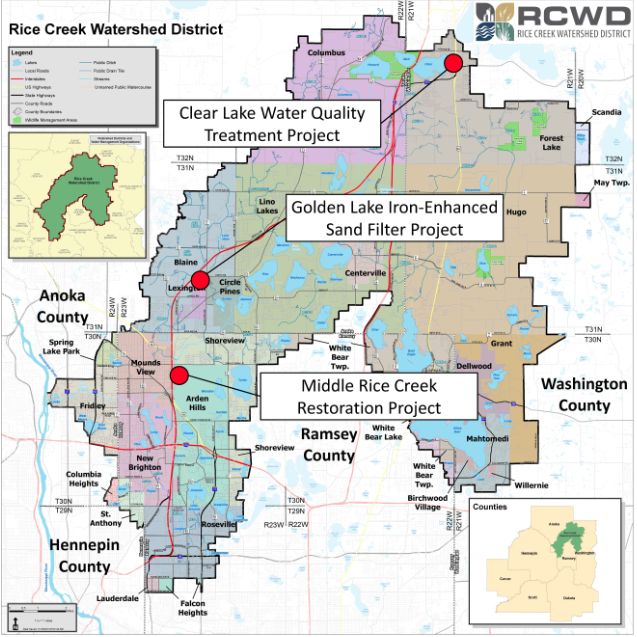 Image courtesy of the Rice Creek Watershed District
The Rice Creek Watershed District recently announced that more than 1 million dollars in Clean Water Fund Grants (from the Clean Water, Land, and Legacy Amendment) have been secured to complete water quality improvement projects in the District. Projects include the following:
Middle Rice Creek Restoration: A study led by the Rice Creek Watershed District in 2009 found that changes to Middle Rice Creek over time have caused instability and erosion, leading to loss of important habitat for fish and other aquatic life. This project will restore the stream channel, thereby keeping 107 tons of sediment or dirt from flowing downstream into Long Lake. This represents a 315 pound reduction in phosphorous, a nutrient that supports plant and algae growth. This project will also include educational kiosks with information about Middle Rice Creek and the restoration project, and a partnership with FMR to host a canoe trip for residents once the project is complete.
Clear Lake Stormwater Project: The redevelopment of the City of Forest Lakes Public Safety and City Hall site provides an excellent opportunity to address excess pollution from a known hotspot located near State Highway 61. This project will include four biofiltration basins and one wet sedimentation pond to capture and treat phosphorous in stormwater runoff before it reaches Clear Lake.
Golden Lake Iron-Enhanced Sand Filter Project: As the first iron-enhanced sand filter in the watershed, this innovative project will remove 21 pounds of phosphorus from stormwater runoff before it flows into Golden Lake each year. This project is critical to help Golden Lake meet state water quality standards.
FMR salutes the Rice Creek Watershed District for its work to protect and restore Minnesotas water resources through these innovative projects. The projects respond to specific water pollution problems with targeted, well-designed plans that will help the watershed meet water quality standards while protecting and enhancing habitat, recreation, and quality of life.
For more info on these projects visit ricecreek.org or contact the RCWDs Jessica Bromelkamp at (763) 398-3073 or jbromelkamp@ricecreek.org.