Rock Island Swing Bridge gets $100,000 reprieve
by Bob Spaulding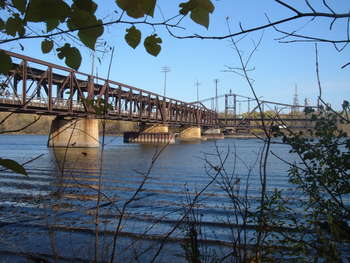 The City of Inver Grove Heights will get $100,000 to plan for the partial preservation of the Rock Island Swing Bridge, thanks to funding passed by the legislature and signed by the Governor on Saturday.
The allocation of funds was a change of fortune for a bridge that was slated for total demolition in the coming months. Calls for demolition were hastened last winter when a 200-foot section of bridge in St. Paul Park collapsed.
In March, that eastern portion of the bridge, and the swinging element in the middle were demolished for safety reasons. Portions of the bridge near to Inver Grove Heights were removed temporarily to limit access.
Rep. Joe Atkins (DFL-Inver Grove Heights) shepherded the bill through the legislature. If the bridge were to be totally removed, "Inver Grove Heights would be losing one of its most important historical landmarks," said Rep. Atkins. "My hope is that we can preserve history, save money, and create a scenic amenity for our community to last another 100 years."
The Swing Bridge, also known as the JAR Bridge, carried car traffic between Inver Grove Heights and St. Paul Park until 1999, when it was closed for structural reasons. Last fall, the National Park Service held a popular tour of the bridge, which sparked the imagination of community members.
"We had over 1,000 people there and we had a mixed bag of reactions, but all positive," Mississippi River Park Superintendent Paul Labovitz told the St. Paul Voice last year. Labovitz said the tours helped the public think differently about the bridge and its future.
Atkins believes the western portion of the bridge can still be saved. The funds will be administered by the Minnesota Historical Society, which will grant them to the City of Inver Grove Heights for project planning.
Learn more about the bridge's history and tenuous future in FMR's Rock Island Swing Bridge Fact Sheet.