Special opportunity to support FMR's work in north and northeast Minneapolis!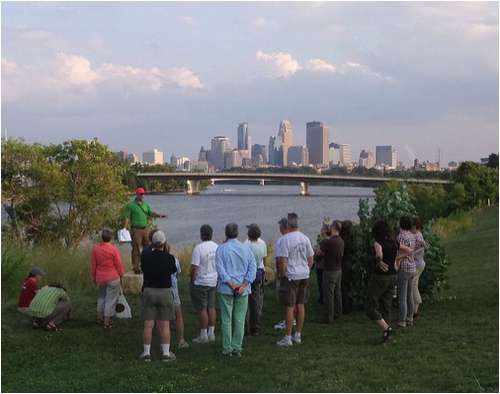 Photo: Irene Jones/Friends of the Mississippi River
FMR has a fundraising challenge to meet, and we need your help!
FMR has been working on the Above The Falls Citizen Advisory Committee and in other area forums for over ten years, and has been actively engaging residents and schools in the "Above the Falls" neighborhoods of north and northeast Minneapolis in river-focused education and stewardship opportunities since late 2012. We are working to enable these communities to reconnect with and have a voice in shaping the future and the revitalization of their riverfronts.
This is long-term, place-based work that takes time and commitment, and as we have done in other stretches of our Twin Cities reach of the Mississippi, FMR is showing that commitment. Last year we took over 40 people on tours of important sites Above the Falls, hosted a workshop on gardening and lawn care for water quality, and brought watershed education to over 100 elementary school children. As we sought out support for this important work, we received a challenge from the Irwin Andrew Porter Foundation to raise financial support from the communities and people being positively affected by outreach and engagement in these riverfront activities and advocacy.
We have raised $4,500 toward the full $11,250 challenge, and need to raise the remaining $6,750 by May 15th to leverage the full amount and sustain the work that we have begun. You can be part of this important effort. You don't have to live in North or Northeast Minneapolis to help us meet the challenge but if you do live "Above the Falls", work or own a business in these neighborhoods, or can encourage others who do to support us, it'll help us meet the full spirit of the challenge!
You can mail in a contribution (please indicate that your gift is intended to help meet the "Above the Falls Challenge") or make a gift online today (please type "ATF Challenge" in the dedication field).
If you are interested in a business membership with FMR that will also help us earn the full challenge, and benefit your business, please contact Heather at hhaynes@fmr.org or 651-222-2193 x20 for more information.
Friends of the Mississippi River provides an opportunity for you to make a difference locally, where you can see the impact of your involvement and your investment. The work that we are doing will benefit these communities now and for generations yet to come.
Thank you for your support!