Swan song for migration season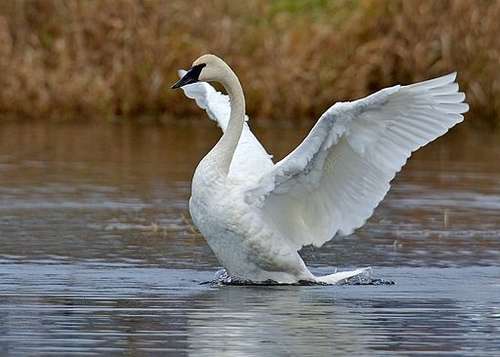 Photo: Alan D. Wilson
It is always with some sense of sadness, an emotion rampant this particular season, that I watch the last of the fall migrants bid adieu. If you go out in the evening along the river you may hear the calling of swans, pushed south and east by the formation of ice on northern lakes, towards Chesapeake Bay, where they winter. As the river and lakes begin to freeze toward the end of the month, large rafts of waterfowl — especially mergansers, ring-necked duck and canvasback — can be seen in open areas of the river.
Waterfowl need to utilize both plant material and invertebrates to build fat reserves for their long and taxing winter migration journey. They congregate where they can find the largest amount and diversity of food. The Twin Cities reach of the river does not provide as much essential foodstuffs as the areas in the southeastern portions of the state. For the best views of mass quantities of migrating waterfowl, visit pool 7 in La Crescent and pool 9 in Eastman, Wisconsin. Within the Mississippi National River and Recreation Area, you can still get a glimpse of waterfowl in pool 2 near Hastings and also at the confluence of the St. Croix and Mississippi Rivers.
For an idea of which birds are where, check out the U.S. Fish and Wildlife Services weekly fall flight survey for the Twin Cities and south along the river.
Lest we despair too much about the end of the fall migration, remember, the spring migration will bring new birds to the area starting in February.
— Tom Lewanski, Conservation Director