Tom Lewanski
Conservation Director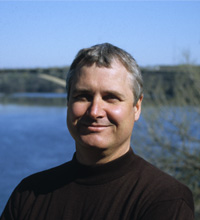 Professional Bio
Tom received his Bachelor's degree in Outdoor Education from Northland College and earned a Masters and Doctorate in Public Administration from Hamline University. Prior to joining FMR in 1998, Tom worked in the Office of Planning at the Minnesota Department of Natural Resources and at Carpenter Nature Center, where he served as Senior Naturalist and Volunteer Coordinator.
FMR Role
Tom coordinates the efforts of the Land Conservation Program. He works with public and private landowners and partnering conservation organizations to protect, restore & enhance natural areas that are important for the life of the river. Tom also serves as the program's lead fundraiser and grants' manager.
Personal Details
Tom enjoys birding, cooking, reading, listening to good music and spending time in natural areas with his family.