Triclosan and lakes: toxic build-up continues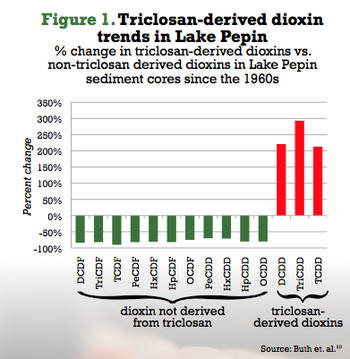 A brand new University of Minnesota study has determined that triclosan, a common antibacterial agent used in soaps and many other household products, continues to build up in several Minnesota freshwater lakes.
As triclosan used in household products moves through the wastewater treatment system, it breaks down into a family of toxic compounds that pose potential threats to aquatic life and human health.
According to Bill Arnold, a civil engineering professor in the University of Minnesota's College of Science and Engineering who helped author the report: "It's important for people to know that what they use in their house every day can have an impact in the environment far beyond their home. Consumers need to know that they may be using products with triclosan. People should read product labels to understand what they are buying."
Triclosan and its bi-products are also an issue for the Mississippi River, where triclosan-derived dioxins have increased in by 200-300% in Lake Pepin sediment samples since the 1960s.
For more information on triclosan and the State of the River Report, visit StateoftheRiver.com.
Recent coverage of this report and its finding is available from the Star Tribune and Pioneer Press.