Can St. Paul's River Learning Center project get back on track?
This original River Learning Center design concept, one of three, raised concerns for us about building height and setbacks, the size of the marina, and other elements that might be detrimental to this sensitive place. (Image credit: W Architecture and Landscape Architecture) 
 
SEPTEMBER 2022 UPDATE: St. Paul recently revised their design concept. We think this one is better, but we still have some questions. Read our updated comments and sign up as a River Guardian to weigh in when the time is right.
* * * * *
(Original article published July 7, 2022)
Friends of the Mississippi River has supported the vision for a River Learning Center in St. Paul for over a decade. 
St. Paul has many wonderful amenities along its extensive Mississippi River shoreline but doesn't have a hub for nature-based education and recreation programs. And the National Park Service's local unit, the Mississippi National River and Recreation Area, lacks a public-facing headquarters; its office is in a downtown St. Paul building. 
A River Learning Center could fill those gaps by providing a National Park Service headquarters right on the river with space for educational programs and recreational activities provided by partners such as Mississippi Park Connection and Wilderness Inquiry. 
The center has been a city goal for over 10 years now and has more recently become a project co-led by St. Paul's Parks Department and its fundraising partner, the Great River Passage Conservancy. 
Schematic design underway
A few years back, the city determined that the current Watergate Marina site within Crosby Farm Regional Park would be the best location for the River Learning Center. (Read more about how this site led to our national park's founding, as well as about the significance of this Bdote area to the Dakota people.)
Over the years FMR has heard questions about whether the center is an appropriate addition to a tranquil, scenic park like Crosby Farm. We've expressed that we support the addition because project leaders promised that it would be "light on the land" and designed thoughtfully to fit into — rather than detract from — its special setting.
This year, the project advanced to a "schematic design" phase (in which site constraints and facility needs are assessed and a design concept is created). In mid-June the project team released three draft design concepts for community feedback.
First concepts and reactions
We'll be blunt: We weren't happy with these design concepts. They are the opposite of "light on the land."
The proposed buildings are two to three times the size of most Twin Cities nature centers and park event facilities. At this site, the guiding design principle should be "How do we support the River Learning Center's programming needs in the simplest way possible?" Not "How much can we fit in?" 
The proposed concepts include many uses that aren't appropriate or necessary for this sensitive park location: extensive office, warehouse and operations space for a too-long list of potential tenants. The list included not only the National Park Service but also Mississippi Park Connection, Wilderness Inquiry, Your Boat Club (the marina operator), the Great River Passage Conservancy and St. Paul Parks.
Several elements of the designs (building sizes and locations, elevated walkways, etc.) violate the new Mississippi River Corridor Critical Area standards — state rules and a forthcoming city ordinance created to guide metro riverfront development in a way that preserves its assets for all to enjoy. For instance, one concept drawing shows a 100-foot-high tower despite the ordinance's building height limit of 35 feet. In other words, the City of St. Paul suggests that it would violate and/or exempt itself from its own regulations.
The proposed marina is also much bigger than what was previously presented to the public. Before committing to an extensive operations partnership with Your Boat Club, the city should engage the community regarding its current plans.
While motorized boating is a popular river activity, the storage, maintenance and parking facilities of a large marina can be unsightly and might conflict with a nature-based learning center. Also, busy motorboat traffic in the site's bay could limit long-desired paddling programs that are difficult to conduct elsewhere in the river where the current is stronger.
A redesign is on the way
As a longtime supporter of the center, and close partner to the organizations planning this facility, FMR wants a new River Learning Center in Crosby Park. But it needs to be dramatically redesigned in scale with its special location, city and state development regulations and community vision in mind.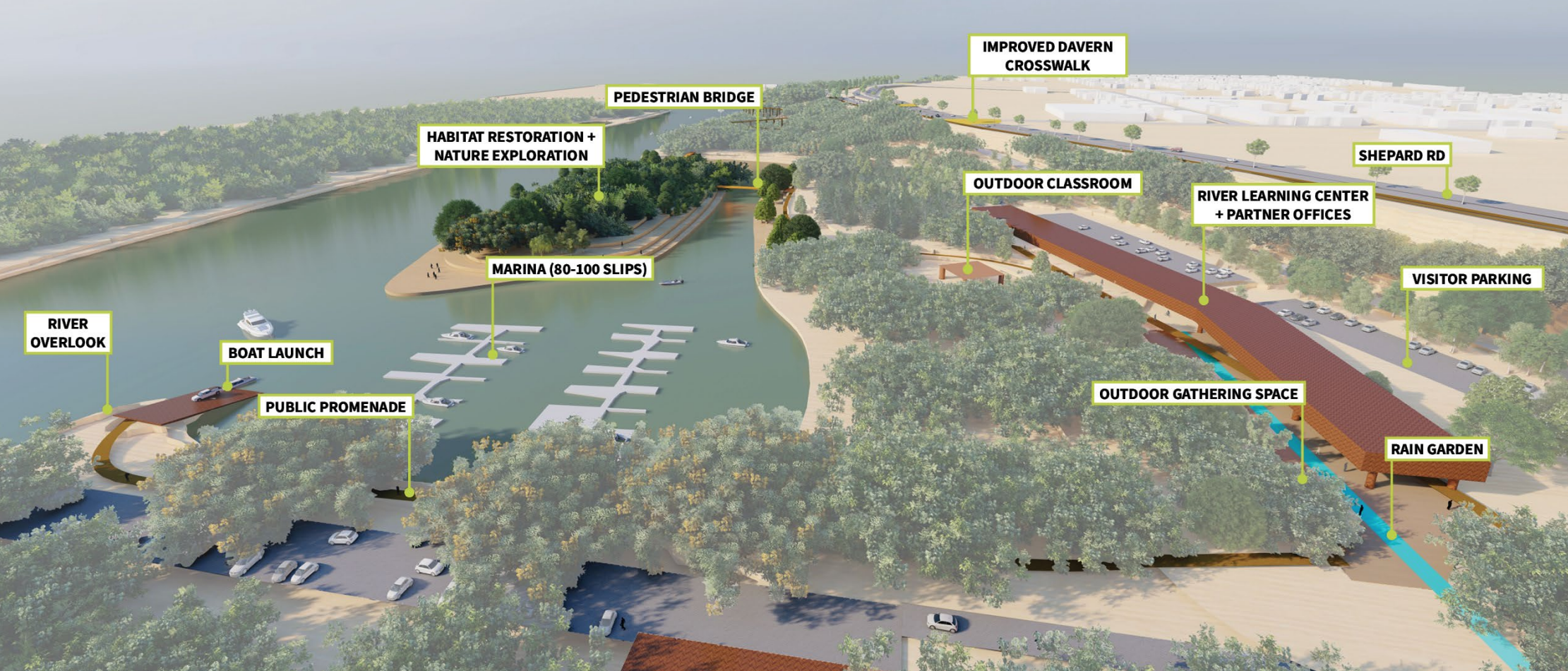 This design concept makes it clear how much building, parking and operations space the proposed project would consume if the plan were not revised. (Image credit: W Architecture and Landscape Architecture)
In addition to reaffirming our longstanding position with written comments, we've met with all the project partners and spoken with many of our members and River Guardians.
The project team has assured us that the next round of River Learning Center design concepts — scheduled to be unveiled at a virtual community meeting on Aug. 11 — will respond to the feedback they've heard. They've told us the scale of the buildings and proposed operations, in particular, will be reduced.
Wilderness Inquiry has announced that they will seek a different location for their headquarters although they hope to be a programming partner at the site. This change will significantly lessen the space requirements for the structure, though the scale of the proposed Your Boat Club marina operations is still of concern. 
Will the updated design concepts deliver on the promises of the past 10-plus years? Will they respect the original vision for river-based learning and recreation? Will they be fully compliant with Mississippi River Corridor Critical Area regulations and Department of Natural Resources waterfront rules while respecting this sensitive gem of a site? We'll be watching to see.
Our River Learning Center vision
In a few years, we hope to gather with you at a new River Learning Center that makes all of us proud. We'll look around and see structures that are unobtrusive, sustainably built and scaled to include only what truly needs to be located in a riverfront park.
We'll see students in the center's classroom, looking through microscopes or creating art about what they've experienced at the river that day. We'll take a guided hike with a park ranger or perhaps a canoe lesson in a quiet backwater bay with Wilderness Inquiry. 
Visitors of all backgrounds, drawn to our national park headquarters, will be enjoying the river. They might have borrowed binoculars, bikes, snowshoes or fishing poles from staff. When it's time for a break from the adventure we'll enjoy the peace and beauty around us from a bench or picnic shelter. 
We can't wait to enjoy this kind of River Learning Center with you.
Add your voice
We need your involvement in the next phase of this planning process! Become a River Guardian today so we can notify you about upcoming feedback opportunities. And if you're interested in this project, you can RSVP to the Aug. 11 virtual community meeting, during which organizers will present a "single, new design concept based on community feedback and key site decisions made by the project partners." Attendees will also be able to ask questions.
To see the current design concepts and learn more about the project team, visit the Great River Passage Conservancy website.