Cornell research: Fertilizer plants emit 100 times more methane than reported
Agricultural practices already drive Minnesota's greenhouse gas emissions, but new data suggests that potent "fugitive methane emissions" from cropland fertilizer production may be vastly underestimated. (Photo: Kevin Dooley, CC BY 2.0)

It's long been known that cropland and animal agriculture are major sources of Minnesota's greenhouse gas emissions.
It's also well known that nitrogen from fertilizer is polluting the Mississippi River and many communities' drinking water supplies. (This is one of our top issues.)
Less well-known is that fertilizer production facilities themselves are large greenhouse gas emitters. Fertilizer production uses natural gas as both an energy source and as a raw material in the production of ammonia and urea fertilizers. (And ammonia production produces carbon dioxide.)
However, alarming new research suggests that the industry's emissions of methane — a much more potent greenhouse gas — may be 100 times higher than their self-reported estimates.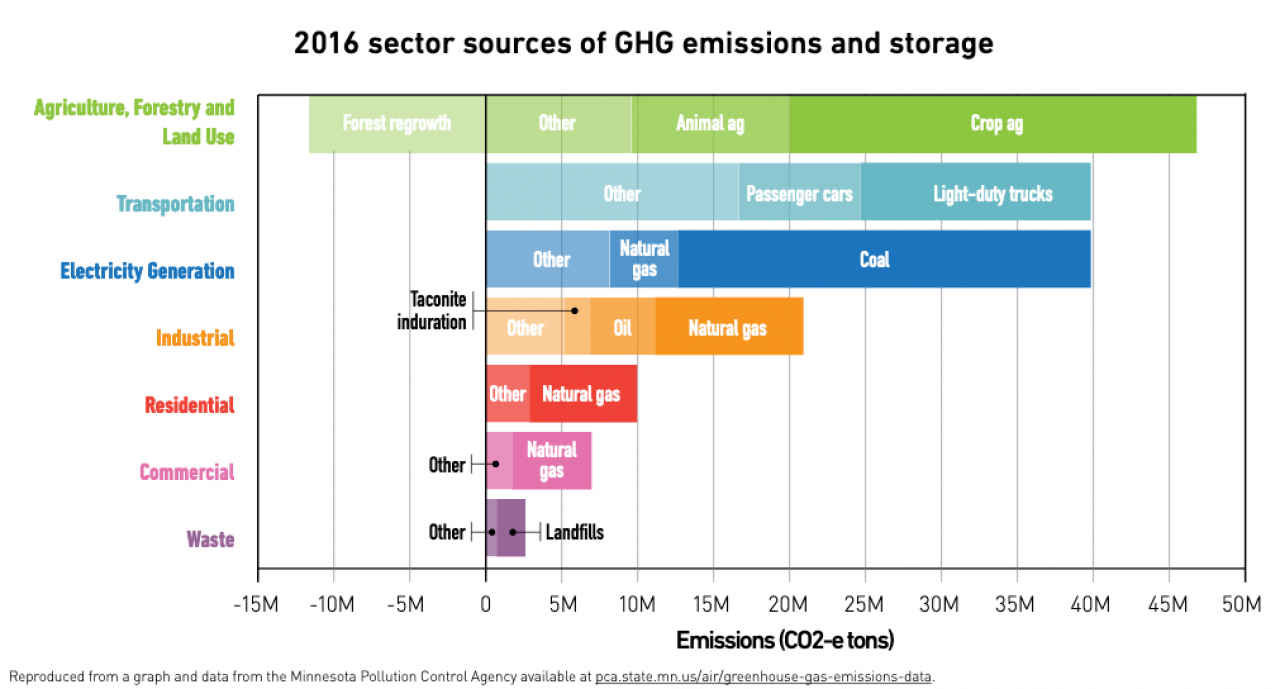 Prior to this study, greenhouse gas emissions from the agricultural, forestry and land-use sector easily topped our charts in Minnesota.
The research
This creative research, led by a team at Cornell University, deployed a Google Street View car equipped with a high-precision methane sensor on public roads near six Midwestern fertilizer plants.[1]
Based on the findings, researchers estimated the "fugitive methane emissions" lost to the atmosphere during the production process nationally from such facilities.
Their findings, "Estimation of Methane Emissions From the U.S. Ammonia Fertilizer Industry Using a Mobile Sensing Approach," were published in May in the journal, Elementa.
Said the study's co-author John Albertson, "We took one small industry that most people have never heard of and found that its methane emissions were three times higher than the EPA assumed was emitted by all industrial production in the United States."
Implications for agriculture and water quality
The article notes methane is 84 times more potent as a greenhouse gas than carbon dioxide over 20 years, meaning such methane emissions could be a significant driving factor in climate change moving forward.
This, in turn, has serious implications for Minnesota's croplands, where climate change is already predicted to supercharge farm runoff pollution in the years to come.
Continued reliance on fertilizer products with such potent greenhouse gas emissions will only amplify the already troubling impacts of climate change, as high-intensity rain events drive consistent and devastating floods, compromising farm production and profitability throughout the Midwest.
This is one reason FMR is working hard to advance the next generation of clean-water crops that improve water quality, habitat and soil health while enhancing farm profitability.
Learn more
To find out more about innovative agricultural solutions to river and water pollution that support our rural economies, join us August 16 or 17 for the AgroEcology Summit in Windom.
Join us!
Sign up as a River Guardian and we'll email you when there's a chance to act quickly online for the river. Plus you'll be invited to special events like educational happy hours.