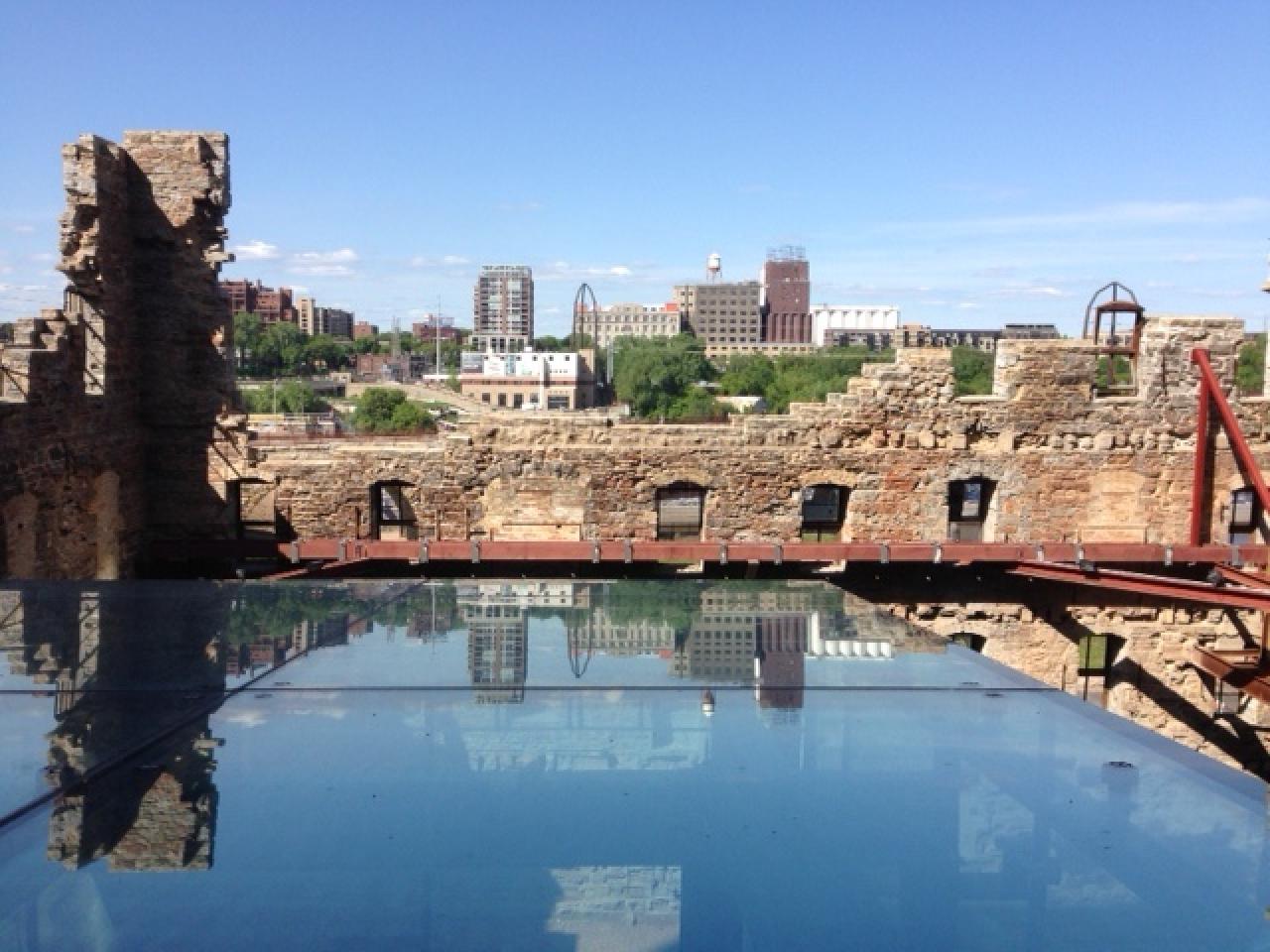 The June photo, which peered through the preserved ruins of the Washburn-Crosby Mill, offered a different perspective of the Minneapolis riverfront. It was taken from the McKnight Foundation offices during a recent celebration of the closing of Upper St. Anthony Falls lock to protect the river from invasive carp. The Mill City Museum and other businesses are housed in this significant Minneapolis landmark. A couple of the responses we received highlight the amazing views from this site.
Dan Gjelten wrote, "Looking east from one of the upper floors of the Mill City Museum on the bank of the river by St. Anthony Falls. Our friends at Meyer Scherer and Rockcastle have their offices on the 8th floor of the building and we've watched the fireworks at the Minneapolis Aquatennial there before, as well as having attended concerts and other events in the courtyard. We were there last Saturday night during Northern Spark. It is a stunning space."
Mike Schmidt gets extra kudos for identifying the EXACT location where the photo was taken — "This month's photo is at the McKnight Foundation's offices, and specifically from the 4th floor patio at 200 S 2nd St (photo taken at the coordinates 44.979079, -93.257187). You can barely glimpse the Mississippi through the windows of the historic Washburn "A" Mill in front of the newly closed Upper St. Anthony Falls lock. At that spot I've marveled at the river, made friends over lunch, and admired the number of people who bike to work at McKnight (assuming the bikes stored on the patio were for that purpose)."
About "Whose view? From where?"
Each month in this section, we feature a photo somewhere along the river corridor in the Twin Cities that is in some way significant or important or just plain scenic. Individuals may then email us and identify the view and explain why they believe it is significant to the community or important to them personally. We'll publish some of your responses in the next issue of Mississippi Messages, where we will also reveal the correct answer.
Photographer:
Alicia Uzarek