Whose view? From where? — November 2017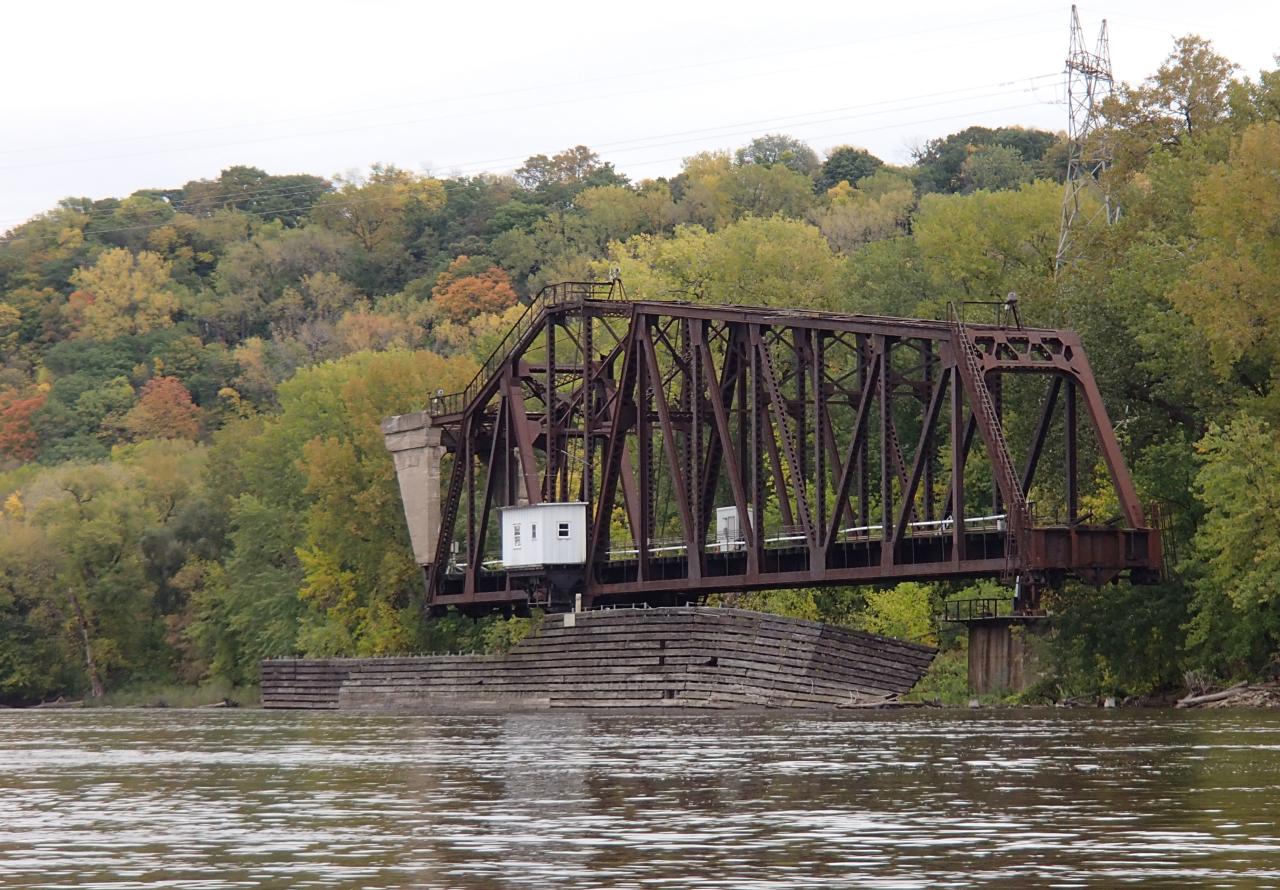 We received a fair number of correct responses to the November mystery view. Here are a few of our favorites:
Frequent 'Whose View' contributor Brian Nerbonne described it particularly well: "November's view is of the railroad swing bridge near Lilydale Park in St. Paul. This unique structure is reportedly the only asymmetrical swing bridge on the Mississippi River. Most pivot at the center, such as the railroad bridge in South St. Paul that crosses the Mississippi near the Pig's Eye Wastewater Treatment Plant. The bridge in Lilydale is cantilevered by a large block of concrete (visible in the picture) that holds up the long end of the span. Physics in action!"
Al Singer, added a bit of lore to his response: "This is the old swing bridge by Lilydale Regional Park. Always a highlight of riding the paddle boat upriver from Harriet Island and listening to Don Shelby retell the ol' tale of the former steamboat captain who owned the land where the bridge was being constructed. He vigilantly watched the project and waited until near completion to tell the railroad that they were trespassing. As a result, the railroad company had to cut off one end of the bridge and add the huge counterweight — all to get even with the new industry that was impacting the riverboats."
But Hansrajee "Hans" Ramprasad was the only person to provide the full correct name of the railroad crossing: "Omaha Road Bridge Number 15."
Located about two miles upstream from downtown St. Paul, the Omaha Bridge is one of three swing bridges in the Twin Cities' stretch of river. The St. Paul Union Pacific Rail Bridge, located near Pig's Eye Lake between South St. Paul and St. Paul, is the only other swing bridge still operational. The Rock Island Swing Bridge, which once connected Inver Grove Heights and St. Paul Park, was converted to a river walkway and regional recreational trailhead a few years ago.
Please note: "Whose View? From Where?" is going on hiatus to make room for a monthly feature celebrating 25 special Twin Cities river spots in honor of FMR's silver anniversary year. Look for it throughout the 2018 Mississippi Messages!