Write to the River — Fall 2018 Prose & Poetry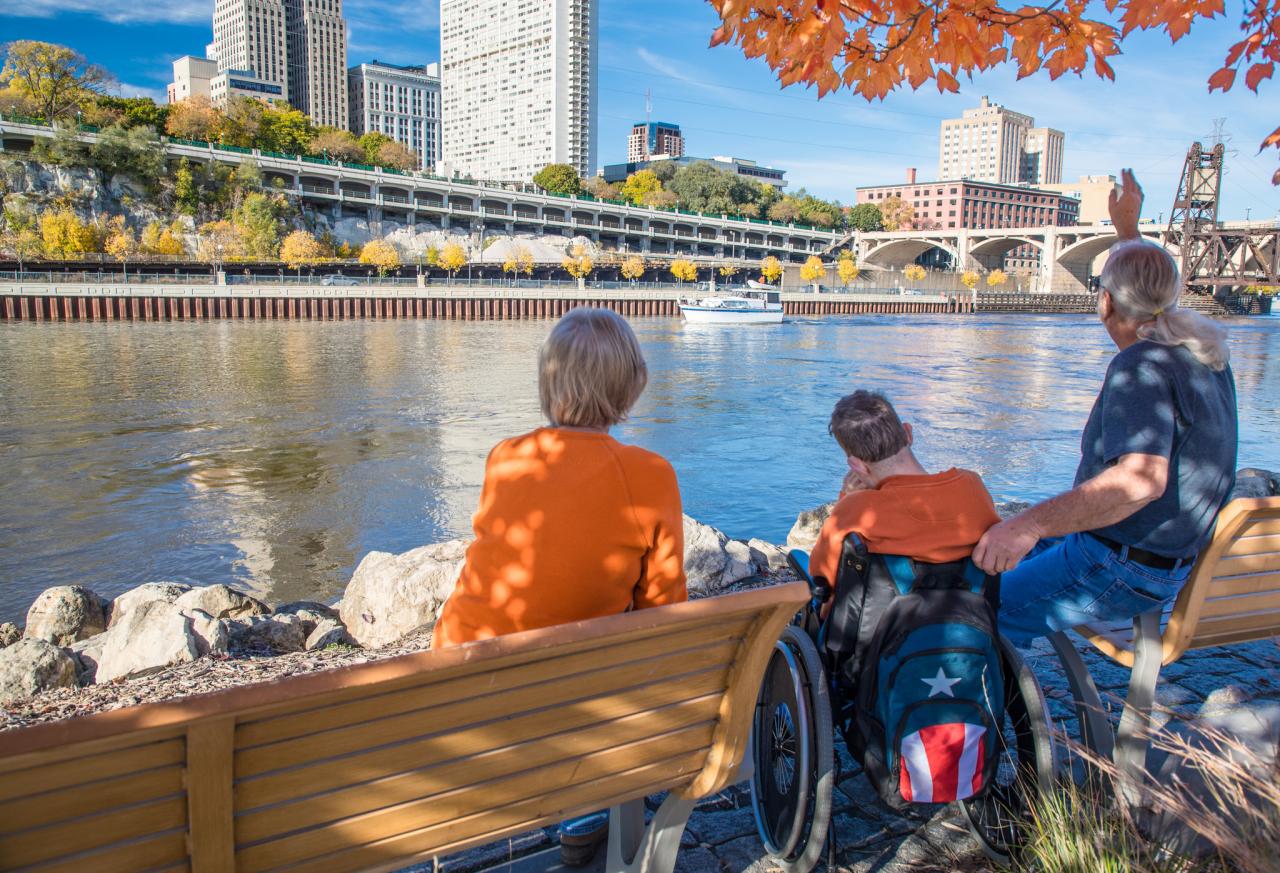 Our fall 2018 photo prompt by photographer Tom Reiter features visitors to Raspberry Island in St. Paul, and our fall submissions thoughtfully convey the many ways in which the river is accessed and interpreted.
Through this season's beautiful collection of poetry and prose, we witness the process unfolding; how the river invites us to discover — whether through boating, fishing, viewing or simply knowing it's there — and how we in turn are enriched by this interaction with our own discoveries of being part of its rich landscape.
We invite you to delve into this season's writing and discover some of the ways our river speaks and inspires deeper connections.
Write to the River is a creative writing project to inspire artistic engagement with our river environment. Each season, we invite all readers to share an original poem or short prose response to seasonal images along the Upper Mississippi River. Our next photo prompt and call for creative writing submissions will be in the December issue of our e-newsletter "Mississippi Messages." 
Reflections
As the Mississippi squeezes past
Raspberry Island it ripples and squirms
between its man-made margins;
rip-rap rock edge here,
steel shoring flood wall over there,
bridge pier obstructions upstream and down.
Gone the backwater marshes,
the mudflats for flood expansion.
Passing along this edge of the city
The River must submit to the bit and bridle
of civility. The upright dignity
of tall buildings won't accept anything less.
But casual onlookers can't resist
being drawn to its presence.
They may toss a wave at passing boats,
may gaze at the colors of planted tree rows,
or may contemplate how the current
reinterprets the cityscape upside down and smeared.
All the while the enchanting surface draws them in.
They stare at it the same way
they would spend hours watching a campfire.
A dance of surface and substance,
never still, never predictable, never saying yes,
or no, to that urge to plunge in.
By Jim Larson
Six River Haiku
seed. leaf. M-I-S-
mayfly carcass, one by one
-S-I-P-P-I
mother & daughter,
watching in silence,
    water's ripple
Mississippi shores:
a mayfly finds a lover,
dark clouds approaching
a mother announces,
"I'm here darlin, I've arrived,"
as do the seagulls
walking with the wind
fallowed heart of the river
nothing to see here
cast…ker plunk
reel…reel…real…
real weed
    cast…
River Dance
The canoe moves with me like a dance partner.
When my thoughts shift, the canoe dips,
angles patiently until I right myself.
When I am calm the canoe moves easily.
When I am anxious, it struggles upriver in spits
and spurts, veers and overcorrects, tacking
against the current like a sailboat sailing into the wind
or an inexperienced driver thrown by black ice.
When I was little, I fell through the ice,
got stuck one foot in the river, one foot out.
My brothers playing hockey on the same
shoveled stretch of river didn't notice.
I pulled my heavy-booted foot and my sodden
snow pant leg out of the water, back up
though the curve of ice, and trudged home down
the frozen-three-feet-thick-and-snow-covered river.
At home, I pulled off my ice-hardened pants,
my hooded red jacket with the faux-fur-fringe
and boots without telling a soul that I had been
knee deep in the icy grasp of the Mississippi.
I was in my forties before I told my Mom.
I know now there is a secret spring that rises
in that spot behind the old Swan house.
I swim there, at times, and idle in the warmth
of the place where I learned about searing cold.
By Laura Hansen
Nature
Today I journeyed out beyond
To capture scenes that I'm so fond.
The melting snow causing water trickles
And added rain that just drizzles.
With help from the bright, warming sun
The days quickly go on, one by one.
Soon there'll be new growth all around
As nature begins without a sound!
By Carol Kappes
Cliché Attack: Love is Like a River
(a current river) (current: time)
not a pre-industrial river
that is to say—
our love is like a
boxed in, dried up, false formed
river
love can't spawn up the falls
because all that's there:
walls and walls
By Cole Williams
Youths Delight
Feet touch-
cool water.
Mississippi-
 -deep..
Strong river,
winding lazily,
around slender ankles-
caressing .
Secrets shared-
while mosquitoes bite-
and fireflies light.
Hopes,
Dreams
pass their lips.....
gliding easily to the others ear.
Laughter rings out!
Beauty abounds..
 A hot-
summer night.
Sun setting,
youths delight.
By Andrea Moss
The following submission is offered as a tribute to those who lost their lives in the tragic collapse of the I35W bridge in sight of the deck of the new Guthrie Theater in 2007.  Using the move from old to new theater as metaphor, it memorializes the fact that we miss them, but life, and the plays that portray it, like the river, flow on.
Missing the Old Guthrie
Why abandon
that charming building
of candy bright light,
light and the various
concentrated attentions
of the elite, the effete,
the earnest hardworking and student
co me seeking salve
and salvation for tired souls,
excitement for energetic minds
exposed under glass
to entice or distance
the man or woman on the street,
the messenger and the driver
passing the spoon bridge with cherry
beside the grasshopper bridge,
or the man under the freeway
with his crudely lettered sign?
On the banks of that mighty river
across the city, a stark new building,
hurling names of its plays like flames
against a darkening sky
retorts 'Why not? Why  not stage
a warren of dim corridors
dark and diverse? Why not
a bar, and stadium seating
cast in an architectural interlude
jutting out, a giant eagle beak
protruding, brooding
over dark flowing water?"
By Shirley Smith Franklin
River poem
The river calls me,
Come! Refresh yourself.
Observe my movements.
Allow time to pass by.
Send your troubles downstream
To calmer waters.
By Susan Suchy
Wild: In the Right Amount
To be wild in the right amount
Is to accept no charity
To weave, to root, to move
And live your heart's decree
On winged thoughts
Gales catch hold of fire
Share them with the world
Or allow them to perspire
To be wild in the right amount
Could cause a great envy
Fall off a trodden path
The taste of truly free
By Cole Williams
     Watching the River Flow
                     (thinking Bob Dylan)

                  slightly above the tree tops
                   six floors from the street
               the perfect place to be and see


            THE GREAT CITY OF THE NORTH

emerald city—Oz, Judy Garland—glowing on the
banks of the river; blue glass and limestone, gleaming
iron; vintage buildings, latest high towers; the Federal
Reserve Bank in the old warehouse district, its curved
façade and clock tower nodding to the water and a
partner clock on the Old Milwaukee Train Depot; art
deco granite and stone Post Office standing as a solid
sentinel to any wavy action; jagged rocky ruins of
Mill City mixing with sleek modern-day sculptures of
Gold Medal Park; new inky Guthrie Theater, endless
bridge jutting out; the Steam Plant, four towering dark
stacks spouting pallid plumes; Water Power Park with
views of the falls; historic Main Street's theater and
cafes; the University's Boathouse and Weisman
Museum—flashing steel sheets abstracting waterfalls,
a fish; and running through it all

            THE  M-I-S-S-I-S-S-I P-P-I  RIVER

'Ol Man, Old Blue, Gathering of Waters, Big Muddy,
It's a treat to beat your feet on the Mississippi mud,
Misi-ziibi or Great Big River or The Father of Waters
by the Ojibwe Indians, the name de la Salle placed on
the 1695 map of the area; about ten thousand years old;
second longest river in North America; beginning as a
narrow stream of Lake Itasca in northern Minnesota,
rolling on deep and wide through the center of our
country—ten states—running through Minneapolis,
St. Paul—the Twin Cities the biggest community on its
banks—Quad Cities, St. Louis, Memphis, Baton Rouge
and New Orleans emptying into the Gulf of Mexico;
people from these places also spell out its name,
M-I-S-S-I-S-S-I-P-P-I. Everyone chants its refrain,
It's a treat to beat your feet on the Mississippi mud;
in day or moon light—Showboat, Moon River—true
blue water sparkles silver in the sun, turns steely grey
by clouds or rain or snow, while black water on a
dark night moves murkily, mysteriously; limbs, some-
times whole trees, caught in low water or on shores,
appear weirdly other-worldly; Mark Twain, America's
storyteller, gave us Huck Finn and his friend Jim who
fear the danger but love the freedom of the river—
had they rafted this far north, they might have braved

            ST. ANTHONY FALLS

churning, cascading, catapulting, the equivalent of
three semi-trailers full of water pouring over the apron
every second; Dakota Indians calling it curling or a
whirlpool; leading up to it, white frothy caps eclipse
the blue fluid waters, an excitement, energy, élan,
mesmerizing—witness the whirring of hovering
helicopters, police cars with whirling screaming tops
careen to a stop, officers leaping out, probing the depths;
alongside the sounding, pounding, powering, former
powdering operation—Minneapolis once the Flour
Milling Capital of the World—stands the residual lock
and dam, closed now—the threat of invasive carp—
g large barges, the Queen paddleboat—but
anyone, anytime, can look up to

            THE BRIDGES

replacing the dramatically fatally collapsed, the new
I-35W of white concrete, lit up at night in green or
purple for Prince, or red, white and blue; beloved
iconic Stone Arch, lighted underneath, first built for
trains now accommodating tons of human traffic; S-
curved graceful Third Avenue, its huge arches mirrored
in the water—brilliant fireworks bursting above it for
4th of July and Aquatennial fêtes; strikingly suspended
Father Louis Hennepin Avenue, the first bridge built
across the Mississippi, redone using white and green
lights and suspension cables for show; King Iron's
1887 iron-trussed Merriam Street connecting to

            NICOLLET ISLAND

famous park with an amphitheater and pavilion—
countless concerts and weddings; limestone Inn
with blue decks and awnings, jaunty window boxes;
playing fields of De La Salle High School—shouts,
calls; trains speeding past—clickety-clacks, hoots,
whistles; quiet village beyond of Victorian houses,
waterside paths; beyond that, Boom Island Park, the
usual end of river walks; a port, a dock, a haven for
the songs of

            THE FAUNA

swimming ducks, flying geese; bald eagles—rising
about the same time every morning, as if there's a
heavenly request to release the eagle; herons, still
looking prehistoric but diminutive now in the broad
expanse of air; caws of murders and murders of
crows—thousands in the winter flying from all
directions, circling and circling, finally settling on
branches of trees, taking flight again, ascending
a wave, circling and circling—an amazing sight;
cormorants and peregrine falcons looping the falls
—if you're lucky to spot them; vultures; yellow-
bellied warblers teaching English sparrows on our
decks to eat spiders; a baby hawk hanging out on
the railing one day, posing for pictures, taking in
airplanes, but eyes swiveling at helicopters close by,
seems to be searching

            THE FLORA

grasses, sedges, shrubs; in spring, the smell of shoots
developing in damp soil beside melting water can be
musty, funky—can almost taste it—sometimes through
a strong wind, can even smell hints of fertilizing manure;
in summer, a sweet foliage scent emanates from ferns of
all kinds, cattails, reeds on shores, water lilies, algae,
duckweed drifting on the surface, mosses clinging to
rocks, damselflies dancing on anemones; a hazy skyline
might develop—smoke from western wildfires—wafts
held by trees of all seasons—evergreens, ash, burr oak,
maple, cottonwood—all growing around

            LIGHTS AT NIGHT

glimmering from the river on the clocks and bridges;
a stellar halo on the Capella Tower, green rings around
others; older lower Foshay's name; a golden church
peeking through the skyscrapers; red lights on top of
Cedar-Riverside, the Somali capital of America, Little
Mogadishu;top floors of Carlyle condos; Post Office
windows; all of Wells Fargo all through the night; the
Vikings Stadium, its own giant sign, great splashes of
colored ships; the Theater's yellow box and undulating
vibrant marquees; red Gold Medal Flour topping Mill
Ruins and Museum—lighted blue benches in the Park;
red North / white Star Blankets; signature red and white
Twins Stadium with twinkling fireworks; landmark
water tank wrapped in changing colors; red Pillsbury's
Best Flour and St. Anthony Main—blue waves under
its name; the A-Mill Artist Lofts whitened to a Greek
temple; famous Grain Belt Beer bottle cap popping
intense hues; our own Riverplace, dark green letters
facing us, glittering snow to the world; and more sway-
ing in the water—white, bright—shining magically

            FOR ALL TIMES FOR ALL PEOPLE ALL WAYS

suns, clouds, rain, rainbows, sleet, slush, snow, sunsets, moons;
walkers, joggers, painters, photographers, kids, grownups, pets;
bikes, cars, horse-drawn buggies, pedaling beer carts, segways;

                       a wondrous show
                   watching the river flow.
Your Fire
Can I share this fire with you?
            Did you leave your boots at dew's edge?
These thoughts are mine.
            There's no property on thoughts.
Can I get warm by you fire?
            Throw in an ember, if you stand with me.
I am too cold to spare an ember.
            You'd be surprised at what you could spare.
The world is static, talking about change…
            We commune. There is a difference.
I have yet to develop my thoughts.
            Is the pen a better friend?
Perhaps warm my hands at your fire.
            No fire is lit for the sake of one.
Did you scratch the match yourself then?
            The scratch has been made well before me.
Where does one find kindle and timber?
            Come in from the cold desert and share our fire.
By Cole Williams
Canoeing a Stretch of the Mississippi
On most Minnesota maps, the Mississippi River looks like a curved line as it
crosses from its headwaters at Lake Itasca to one of the first major bodies of water,
Lake Bemidji. In truth, the river meanders, backtracks, loops and turns. Its slow,
scenic course takes nearly ninety miles to make the same trip that, if driven by car,
would only take thirty. I learned about this stretch of winding waterway firsthand a
few years ago when my brother, John, and I, both in our early sixties, canoed the
Mississippi River. We started at Bootleg Lake, midway between Lake Itasca and our
recently sold family farm, and planned to end at Lake Bemidji.
As we loaded the canoe on his pick-up, we were greeted by warm mid-August
weather. Clear sun glinted off the newly cleaned canoe. High, light clouds set an
auspicious tone for the outing. After a short drive, we launched our craft from a
neighbor's dock into Bootleg Lake. Acres of undeveloped woodland fostered a deep
stillness, broken only by the call of a loon. Entertained by the lonely, high trill of the
north, we mimicked her calls as she swam, dove deep, reappeared some distance
from us, called, and flew off.
On the far side of the calm lake, we entered a deep paddy of overgrown,
intertwined wild rice. It took a half-hour of serious effort to paddle through the rice
to the actual river channel. Once we'd broken through the final yards of rice, the
current's strength pushed us forward into a northern ecosystem of pines, birch,
poplar, reeds, fronds and a river that changed every few miles. At more than one
spot the Mississippi split into two small channels. At each of these diverging
streams, we had to choose which way to go. Whenever I urged caution, John said,
"Where's your sense of adventure?" He often encouraged this quality in life.
We took the turns John suggested, and were rewarded by a current that
flowed fast enough and large enough to cut a clear channel through tall, slender
cattails and reeds, but narrow enough to qualify as a mini-adventure. The wild and
winding river did call for a daring spirit. Most storm-felled trees that littered the
river way had been cut, making a path just wide enough to allow small watercraft to
pass, leaving the rest of the tree to decompose naturally. One upended oak hadn't
been tackled yet and stood with its head in the water and its feet towering in the air
above us. We lifted the canoe and portaged around her massive roots, trudging a
few feet on shore, and re-entered the river on the tree's other side.
At some points, the backtracking river is unpredictable, changing character
without warning. For a few miles after Bootleg Lake, the river had the ambience of a
southern locale with heavy foliage and large, shadowy, moss-covered trees. Yet, with
one turn, the river changed to a meandering, open waterway, laden with wild rice,
blue-green grasses, and riverweeds. A few twists and turns later, birch trees lined
the shores with sun-dappled leaves that held a hint of autumn. In this stretch, the
river was true wilderness. A few houses hid up in the hills, but most of the area was
untouched.
The banks, while shifting slightly with the force of the current, were
relatively stable; the water was clear, and the land clean. The river itself had cut
most of the sand bars. When we came upon the first farm operation, cattle allowed
access to the river for drinking water had eroded the banks. The deep muddy impact
of a few dozen cattle changed the character of the Mississippi.
We didn't see many people. Two men in a small motorboat edged their way
up current as we paddled down. We saw a buck. Then, to our amazement we saw a
buck-naked man. Jeans, t-shirt, socks, boots, and cap lay neatly stacked at the edge
of the river. As we came around the bend, he raced for cover, his naked rear end
disappearing into the brush. No house, no road, and no clues appeared to answer
how he'd hiked to this part of the river. Apparently we weren't the only ones who
felt as though we had the place all to ourselves.
In his youth, John had canoed from Lake Itasca to Lake Bemidji in nine hours.
He knew that six bridges lay between our kick-off point and our destination. On this
day, as the hours passed and we still hadn't gone under the first of six bridges, we
began to joke about ever reaching those bridges.
"About that first bridge?" I queried.
John said, "Just around the next river bend," and "Where's your sense of
adventure?"
As we kept paddling, it became clear that we wouldn't reach Lake Bemidji by
the appointed pick-up time; we agreed to quit at bridge number three, pulled out a
cell phone, and phoned for our ride. We'd been on the river for nearly five hours.
We called it a day just as storm clouds gathered and headed home to hot indoor
showers.
- - - - -
The next summer, we finished the second leg of the journey. We started at
the third bridge, right where we'd left off, and paddled the rest of the way to Lake
Bemidji. Not far from our push-off point on the bridge embankment, the Schoolcraft
River joins the Mississippi. At that point, the river is no longer a clear, meandering
stream in the midst of a great forest. Instead, it runs wider, deeper, faster. The
Mississippi River became a mighty, powerful natural resource, a force to respect or
suffer your own peril. Houses proliferated, as did docks, powerboats, green
manicured lawns, farms, and businesses. As we crossed Lake Irving, we could see
the buildings of the Bemidji skyline rise in the distance. The closer we got to the city,
the more motorboats, machinery, and manmade impacts there were on the river.
Paddling under the last of the three bridges, we entered Lake Bemidji. We'd
made it to our destination. This second leg of the trip seemed almost anticlimactic.
The surging waters had propelled us the last miles in less than an hour. The
previous trip had seemed alternately glorious and arduous by comparison. The
Mississippi had changed many times over the forty-five mile, bifurcated trip. But so
had we.
When we stepped into Lake Bemidji and pulled our canoe ashore next to Paul
Bunyan and his Blue Ox, the river was no longer just a squiggly, fish hook of a curve
on a map. Seeing the Mississippi from the hull of a canoe allowed me to see her true
character. At her origin she is a winding stream through the deepest of wilderness,
so sheltered from the works of mankind that one can almost get away with bathing
nude in her waters. I hope that this northern stretch of Mississippi remains as lightly
touched by human intervention when future travelers paddle this waterway, as she
was when I last saw her.
By Mary E. Berg