2013: The year in volunteers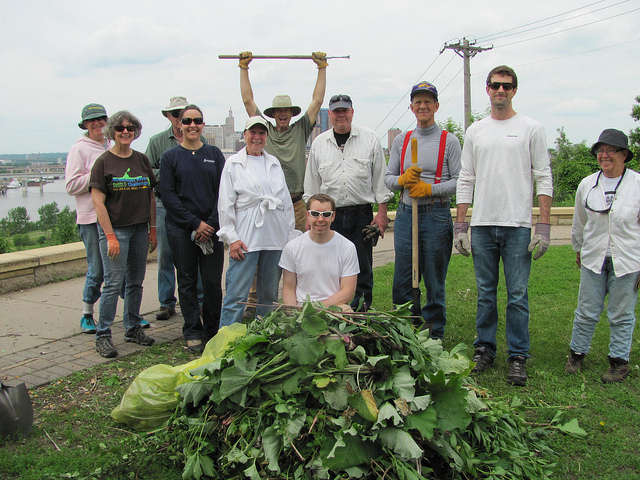 Photo: Katie Clower/FMR
Thanks to all of you who put FMR's mission into action last year! In 2013, approximately 1,900 people volunteered a total of 5,385 hours to help the river through FMR restoration events. This included restoration of special places FMR has worked in for years, such as Pine Bend Bluffs Scientific and Natural Area and Crosby Farm Park, as well as several sites that were new in 2013, including the Hastings Scientific and Natural Area (where we salvaged native plants from a road construction project) and Rock Island Swing Bridge Park in Inver Grove Heights (where we planted willow and cottonwood livestakes in the Mississippi River floodplain). Volunteer activities included planting native species, removing invasives, controlling erosion, monitoring streams, picking up trash, stenciling storm drains, and more!
Additionally, over 1,350 people attended an educational event such as a rain barrel workshop or State of the River presentation. These events offer practical information about lifestyle choices to benefit our local environment, and many participants go on to take action in their own home or community – like installing a rain barrel, or selecting personal care products that do not contain triclosan.
When we surveyed volunteers about their experiences with FMR, many emphasized how much they enjoy working with like-minded people to help protect the Mississippi River and the local environment. Others told us they leave an FMR event with increased knowledge, inspiration, and connection, often extending into their personal lives by way of sharing their experience with a friend or applying new knowledge to their own homes and gardens. One volunteer commented, "I always leave an event feeling that it was time well-spent. There is so much taken care of in a very short period of time. It is always impressive how hard everyone works together to finish what needs to be done. It's great to be a part of that team."
We are always encouraged by this type of feedback, because we could not accomplish the work we do without our many dedicated volunteers. Thanks to all of you who joined us for a restoration or educational event in 2013! We hope to see even more of you in the coming year.