Pledge to pull garlic mustard at Pine Bend Bluffs SNA [FULL]
Thursday, May 5, 2022 -

6:00pm

to

8:00pm
Pine Bend Bluffs SNA, Inver Grove Heights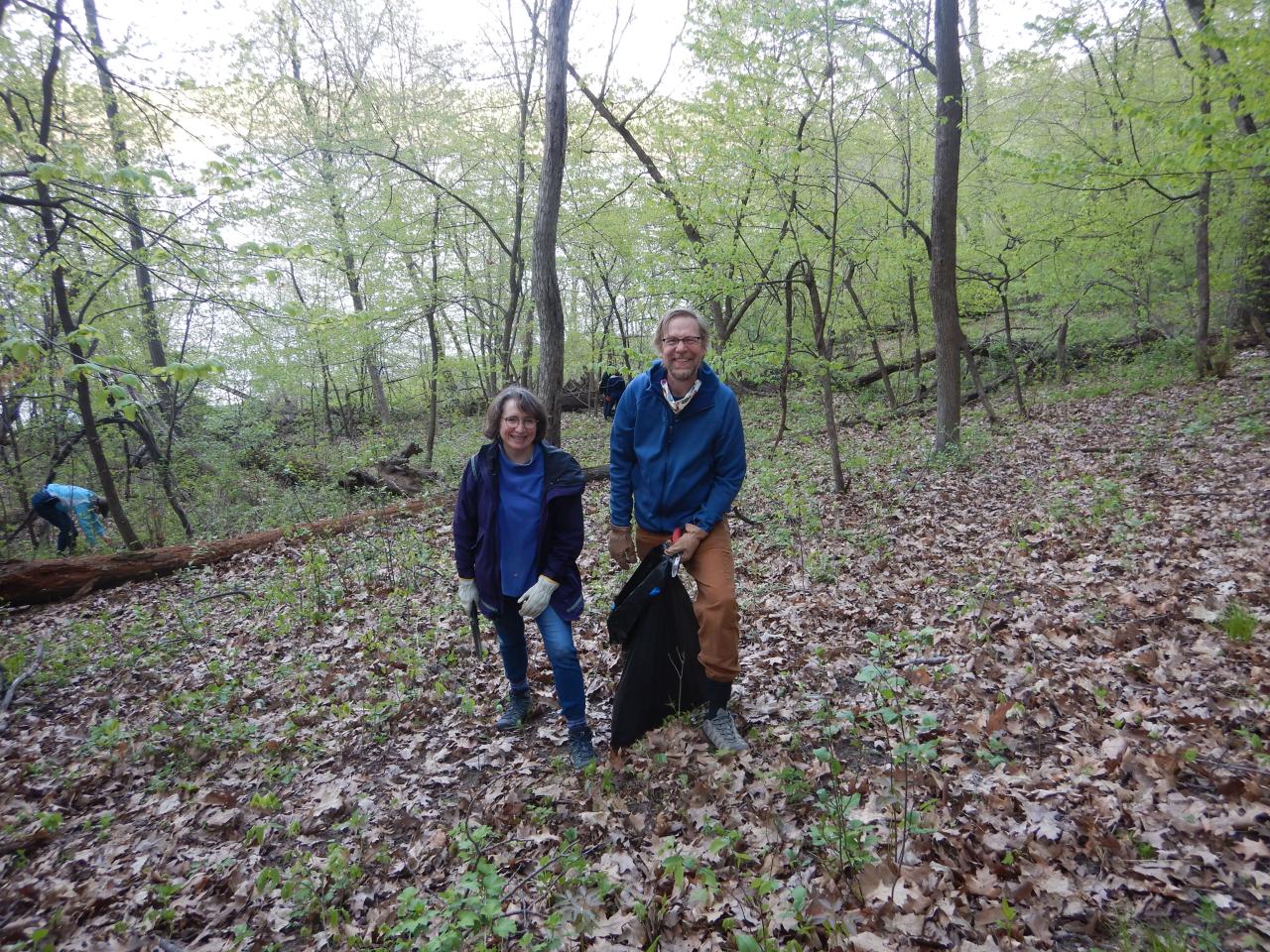 Our work takes place on Dakota homelands. Learn more.
--
Located just 20 minutes south of St. Paul, Pine Bend Bluffs Scientific and Natural Area (SNA) is home to some of the best views of the Upper Mississippi River and is a welcome respite from the bustle of the cities.
After a steep hike, volunteers will work closely with FMR staff to remove invasive plant species. We'll be focusing our efforts on hand-pulling garlic mustard in this award-winning restoration area, which is owned by the Minnesota Department of Natural Resources and is also part of our local National Park (the Mississippi National River and Recreation Area unit of the National Park Service).
We'll provide the tools and training. All are welcome however, capacity is limited and registration is required.
About the Pledge
Please note that we encourage all registrants at this particular event to sign a Pledge to Pull, promising to remove garlic mustard and spotted knapweed in the designated area at Pine Bend Bluffs SNA in the weeks following this training and evening pull.
All volunteers will receive a signed card certifying their participation in the training and granting permission to independently return and perform this volunteer service.
Volunteers pledge to a total of 4 hours of invasive plant removal – 2 hours will be completed at the training plus an additional 2 hours coordinated on your own. If you bring someone with you, their hours count towards your pledged time. For example, if you participate in the 2-hour training and removal session, then bring a friend, classmate or family member to the site for a 1-hour session, that totals 2 hours of volunteer time and the completion of your pledge!
Pulling technique, where to pull and additional details will be covered during the training event.
Accessibility
A long hike up a very steep hill is required to get to the worksite. Volunteers will then work on a steep slope with uneven terrain. Pulling garlic mustard is a lower intensity activity that can be done while sitting down. FMR will provide a few kneeling pads.
Ready to register?
While this event is full, you can still sign up for the waitlist. Please contact FMR Volunteer & Outreach Coordinator Sophie Downey at sdowney@fmr.org, 651.222.2193 x27, or by selecting Sophie by name under "Category" via the FMR contact form. Please include the name of the event, your name, address and phone number and the number in your party. We will contact you if a spot opens up.
Can't make it?
To receive notices of future volunteer events, contact FMR Volunteer & Outreach Coordinator Sophie Downey at sdowney@fmr.org. Or, visit our Events Calendar for our most up-to-date listing of upcoming events. To receive a twice-a-month e-newsletter including all FMR activities and news, sign up for Mississippi Messages.
What about COVID-19?
We're watching the CDC and Minnesota Department of Health guidelines closely. If plans change based on their recommendations, FMR Volunteer & Outreach Coordinator Sophie Downey will email registrants with event updates. (Be sure to add sdowney@fmr.org to your contacts so updates don't land in spam.) And we'll update this page if anything changes. (You can read more about our policies here.)
We will offer gloves and hand sanitizer at the event. Volunteers are encouraged to bring their own masks and wear them when in close proximity to others.
Thank you to our partners and funders:
Thanks to our partners and funders: BNSF Foundation, the Minnesota Department of Natural Resources, the Outdoor Heritage Fund, RBC Wealth Management, Union Pacific and Xcel Energy.