Fall FMR events at iconic Indian Mounds Park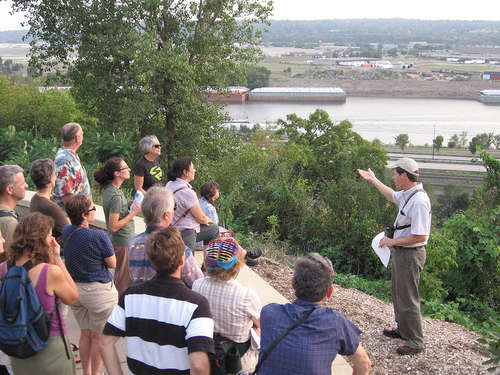 Photo: Katie Clower
Indian Mounds Park, spanning 80 acres of bluff top along the Mississippi River just east of downtown St. Paul, is known for its rich cultural history as well as its fantastic vistas. Over the last few years, Friends of the Mississippi River has been working with the City of Saint Paul Parks and Recreation to restore a bluff prairie at the Carver's Cave overlook here.
Volunteers from the community and students from Harding High School's Earth Club have spent hours removing invasive plants like buckthorn and garlic mustard, and replacing them with native trees, shrubs and grasses. In addition to providing important habitat for insects and wildlife, the restoration also helps reduce erosion, protect water quality, and improve sight-lines for the impressive views of downtown and the river! The project is supported by funding from the McNeely Foundation, the Capitol Region Watershed District, the Minnesota Environment and Natural Resources Trust Fund and REI. This fall, Friends of the Mississippi River offers two opportunities to get involved in this project and learn more about the park's past and future.
Join the restoration!
Join Friends of the Mississippi River, the Lower Phalen Creek Project, Bravely Be, the City of St. Paul and other community organizations to celebrate the continued restoration of Bruce Vento Nature Sanctuary and Indian Mounds Park on Saturday, September 28th , 9:00 a.m.-1:00 p.m.
This National Public Lands Day event is both a celebration of community and conservation. After morning coffee and sign-in, participants will divide into and work in teams to restore habitat in both Bruce Vento Nature Sanctuary and at the historic Indian Mounds Park overlook above. (FMR's Katie Clower will lead one of the work groups to plant shrubs at the overlook, which is a 15-minute uphill walk from Bruce Vento.)
After the restoration outings, lunch will be provided, featuring local fare and a vegetarian option, as well as live music from the Arborators.
Bravely Be is coordinating this event. To register or learn more, visit Bravely Be's registration page.
Join the tour!
The area surrounding Mounds Park is as rich in history as it is beautiful. Join us on Thursday, October 3rd, 5:30-7:00 p.m., for a walk and talk along the bluffs overlooking the river and downtown St. Paul. From this vantage point, much of the river's history can be visualized — powerful geologic forces, American Indian burial mounds, tales of early explorers, the historic harbor and today's busy working river.
Towboat pilot Hokan Miller will discuss the role of shipping and transportation on this part of the river, and environmental scientist Michael Nevala will explain how the built environment has coevolved with the natural landscape here. FMR staff will also discuss the ecology of the site and recent restoration activities at the blufftop prairie, as well as ongoing efforts to protect the burial mounds that gave this park its name.
To register or learn more, visit FMR's event listing.