Future of Rock Island Swing Bridge in flux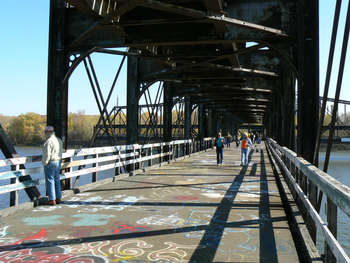 The rare Rock Island Swing Bridge faces an uncertain future. Deemed unsafe by both Washington and Dakota Counties, the bridge has been closed since 1999. Washington County plans to demolish the portion on the east side in Saint Paul Park, but an effort to preserve the west side in Inver Grove Heights is being led by the National Park Service. Dakota County, owner of the west end of the bridge and nine acres on the river, is currently exploring recreation and interpretive uses for the bridge.
In its heyday in the early 20th Century, the bridge carried trains on the top deck and cars on the bottom. Stories about the bridge abound if you start talking to the locals. It is said to have been an escape route of 1930's-era gangster John Dillinger. In order to accommodate boat traffic, the bridge separates and swings 90 degrees so it is parallel to the river bank, opening up a channel for navigation.
The surrounding area has since been designated a national park, the Mississippi National River and Recreation Area, a 72-mile corridor from Anoka to Hastings.
On a stunning, sunny day this October, National Park Service rangers offered tours of the bridge to the public. In part, they wanted to find out whether there was any local interest in restoring the bridge and keeping it open as a pedestrian amenity.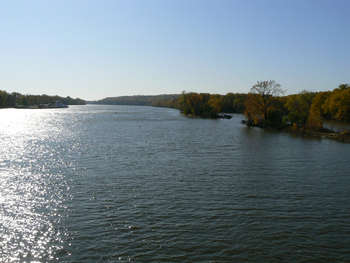 Locals and non-locals came out in droves. Approximately 1,000 people visited the bridge during four hours of non-stop tours and much enthusiasm was expressed about preserving this unique structure. Reuse of the 600 feet of the western approach spans could include pedestrian walkways, overlooks, interpretative displays and fishing access. It could also become a trailhead for the Mississippi River Regional Trail. Inver Grove Heights' future Heritage Park will developed on adjacent land.
Two other swing bridges exist in the MNRRA corridor and are still in operation. The Saint Paul Union Pacific Rail Bridge is a swing bridge that spans the Mississippi River between South Saint Paul and Saint Paul, downstream from the Saint Paul airport. The Omaha Road Bridge Number 15 connects Saint Paul to Lilydale, upstream from the High Bridge.
Read about the effort to study and promote reuse of the Rock Island Swing Bridge. Bridge buffs can also find descriptions and a brief history of all the bridges on the Upper Mississippi River on Wikipedia.