Help restore habitat, monitor stream health, or join the Riverfront Support Crew!
Volunteer season is in full swing at FMR.
Habitat restorers needed
Volunteers are especially needed to remove invasive species and help tend native trees, shrubs and grasses at upcoming July 7th and 14th events at the Rosemount Wildlife Preserve and the Pine Bend Scientific and Natural Area. No experience is required, all supplies are provided and all volunteers are encouraged to work at their ability level. Learn more, including how to register, from the FMR events calendar.
Join the Riverfront Support Crew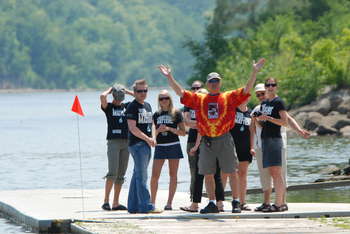 We've filled 140 volunteer shifts for the Mississippi River Challenge already, but need 40 more volunteers for the Riverfront Support Crew, July 29-31. Support volunteers can help with boats, serve refreshments, and/or assist with setup. A wide variety of shift times, tasks and locations are available at beautiful riverfront locations. 
Wade into your watershed
If you live in the Rice Creek Watershed District (find out at ricecreek.org), and are looking for an unconventional volunteer opportunity, consider joining the Stream Health Evaluation Program. SHEP uses trained volunteers to evaluate the biological health of streams by sampling benthic macroinvertebrates — small stream-dwelling bugs. SHEPers should expect to spend 35 hours on SHEP, August-January, between trainings, stream collections, lab time, and the analysis and results celebration. A brief but complete overview, including how to register, is available on the SHEP volunteer page.
Group opportunities
If you're looking for a fun and educational group service outing, consider Storm Drain Stenciling! Using paint and stencils, volunteers mark St. Paul storm drains with the message, "Please Don't Pollute! Drains to Mississippi River (Lake or Creek)!" and distribute educational doorhangers to neighborhood homes and businesses. Learn more on the stenciling page.
Thank you! FMR's habitat restoration projects, stream monitoring work, St. Paul storm drain stenciling and the Mississippi River Challenge would not be possible without all of our great volunteers!